Why OnePager?

Update
Quickly
Don't waste time remaking the same project timeline every week. OnePager updates your Gantt chart with the latest project data in seconds.

Maintain Data Integrity
Never display a task at the wrong date. With OnePager project timeline software, your tasks and milestones are always linked to your project data.

Edit
Easily
Change colors, fonts, and more in a snap, with PowerPoint-style editing capabilities.

Communicate Effectively
Maximize your team's understanding by grouping and sorting your project graphics into swimlanes for different subprojects or workstreams.

Focus Your Audience
Automatically assign special colors, shapes, and styles to important tasks and milestones to help them stand out.

Connect directly to Microsoft Project, Project Server, and Project Online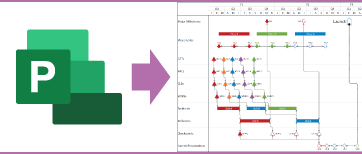 OnePager Pro connects to Microsoft Project, Project Server, and Project Online to create timelines and Gantt charts from one or more project plans.
Learn About
OnePager Pro

Import Excel files, or use Excel to pull data
from other PPM and CWM tools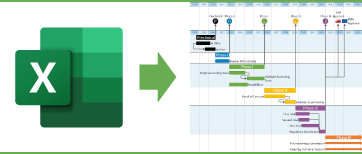 OnePager Express builds project timelines and Gantt charts from Excel, or from any other project management tool that can export to Excel.

Learn About
OnePager Express

Connect to Smartsheet, Primavera P6, Project, or Excel for maximum flexibility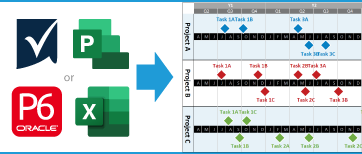 OnePager Bundle connects directly to Smartsheet, and can also import files from Primavera P6, Microsoft Project, or Excel to create data-driven project timelines.
Learn About
OnePager Bundle
How To...
Do you need to report on multiple projects in a single Gantt chart or timeline? See how OnePager makes this easy: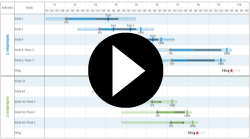 More How-Tos
Featured Example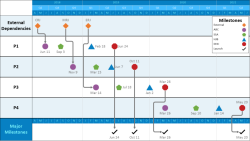 Give your stakeholders an overall understanding of your project, including external dependencies and major milestones.
More Examples
Featured Case Study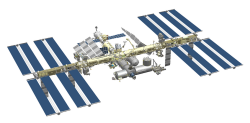 When it comes to the successful completion of complex projects, there are deadlines … and there are deadlines! A space launch most certainly falls into the latter category.
More Case Studies