New Shapes, Fills, and Borders
Prior to OnePager Pro 5.0, users were limited to rectangular task markers ("Gantt bars") and a very small number milestone symbols. All that's changed with OnePager Pro 5.0! You now have six additional shapes with which to represent tasks, as shown here: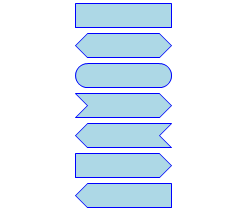 As a further enhancement, the way OnePager Pro 5.0 "fills" the task marker is also enhanced with additional fill patterns as show below:
Additionally, we've enhanced the border options that can surround a task or milestone marker to include the border's line type, width, and color. Look at this example of an enhanced border:
See how the task "Engineering Team 2 Development" stands out with its green, three-pixel, dash-dot-dot border format. Granted, that's a mouthful, but you do have a lot of new options when it comes to borders! These enhancements help you focus your audience's attention to the issues and points you want to make. You can use differences in shape, color, and border to distinguish differences between tasks in your Microsoft Project Plan.
There's still more. We've added more shapes for milestones too – a total of 51 milestone marker shapes as shown here:
As with task markers, you have new fill and border options for milestones as well.
Next week, we'll discuss some of the "drag and drop" enhancements that we've made to OnePager Pro's editor.