If you are someone who regularly reads our blog, you will know that most of the time, our articles cover OnePager and how to use it more efficiently. However, here at OnePager we like to keep things fresh and exciting, so instead of discussing OnePager, this article will cover Baselining and Variance Analysis in your Microsoft Project file.
The best way to get into this discussion is to review what a Baseline and Variance are and what they represent in your schedule.
The Baseline in your schedule can be a kind of snapshot of your project. This snapshot has five categories from which it captures data for every task: start, finish, duration, cost, and work. With this data, you can compare actual vs. planned progress, allowing you to identify areas where the project could use extra attention.
The Variance depends on the baselines as it represents the difference between your original and current schedule. Microsoft Project calculates this by using a formula that I have placed below. Within your project are five types of Variances: start, finish, duration, cost, and work.
X Variance = Current X – Baseline X
Key Points:
Positive number = Late | Negative number = Early | Zero = On time
Now that we understand what roles Baselines and Variances play in the project, how do we analyze the data? The best way to do this is by creating a table to display the Baselines, Variances, and any other data needed.
To create a table, confirm you are in Gantt Chart View, which is selectable in the dropdown under Task > View.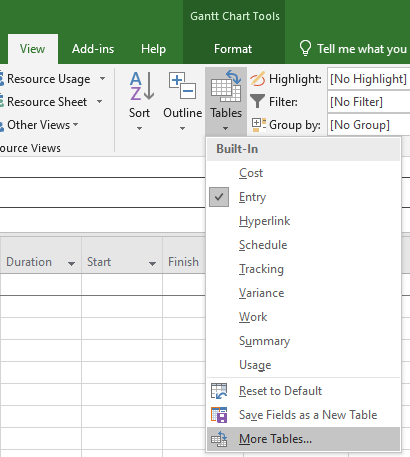 Once the Gantt Chart View is active, navigate to View > Data >Tables and select More Tables in the dropdown.
Click New to create a new table on the right-hand side of the More Tables window.
Give your table a name in the Name field. Under Field Name, select the fields that are needed to perform an analysis of your data; once done, hit OK. It will bring you back to the More Tables window, and to open your newly created table, double-click it in the list.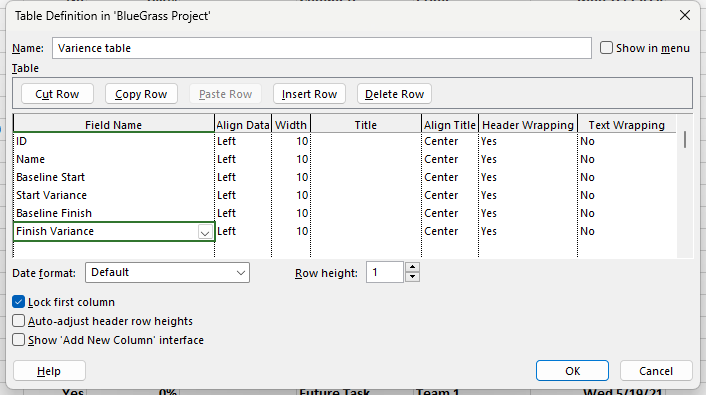 You should now see your custom table with the listed fields visible for your review.

If you found this article helpful, I would like to bring to your attention to a related article that discusses creating a OnePager chart with a Finish Variance: