Those of you who are seasoned users of OnePager know that you can show deadline markers in your OnePager chart, which appear (hopefully) to the right of your main task bars:
Traditionally, deadline symbols don't appear without their associated task, and even if they did, their formatting options are pretty limited, since they're not something that is controlled by conditional formatting, or even really very easy to edit by hand.
However, if all you really need to show is a deadline, there's a neat way to substitute the deadline for the task/milestone itself, which will give you all of the editing options that you're used to.
To do this, go to Chart Properties > Field Mappings and map OnePager's Finish slot to the Deadline field:
Next, go to the Advanced tab and change your Task Representation to Milestone at end. This will convert your entire OnePager chart to only display milestones, and those milestones will look at the Deadline field: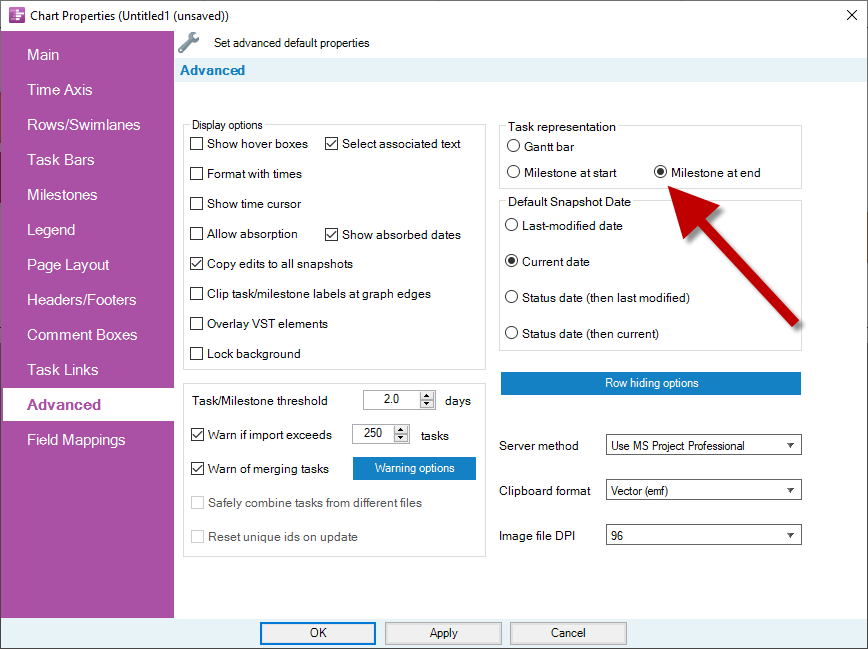 The end result is a milestone chart, but those milestones are actually deadlines:
From here, you can manipulate colors, turn date labels on/off, adjust fonts, and the like.