It probably won't be a surprise to those who read last week's blog post that I just finished Storytelling with Data – A data visualization guide for business professionals, by Cole Nussbaumer Knaflic. I'm excited to say that there were hundreds of pages of new information that related directly to data visualization in planning (plan communications).
Knaflic doesn't call just upon her research, but her own experience, in helping us to become better communicators, most recently as a manager at Google.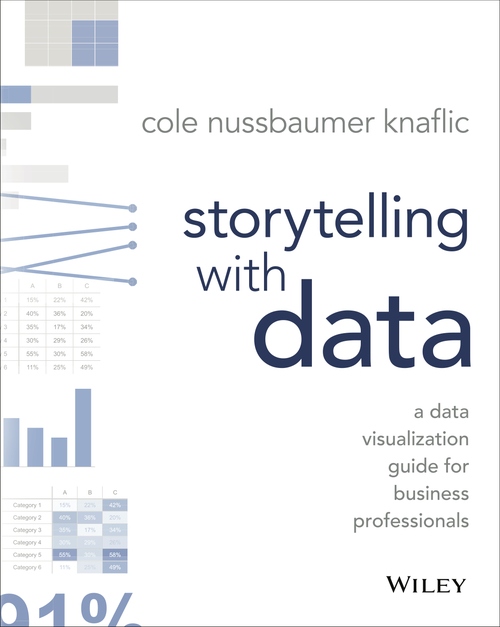 Your Job Depends On It
She makes a very good argument, early on, as to why data visualization is important: "Being adept with word processing applications, spreadsheets, and presentation software – things that used to set one apart on a resume and in the workplace – has become a minimum…" "Being able to effectively tell stories with data is one area that will give you the edge and position you for success in nearly any role." Yes!
"Learn your tool well…"

I love that Knaflic hits hard with a separation of proficiency in tools vs. skills in data visualization. "You can put some data in Excel and create a graph," she says. "For many, the process of data visualization ends there." The same could be said for the OnePager user. While we're constantly working on making OnePager smarter and better, it will likely never be able to guess what you want. Our application solves problems for you, but ultimately it is up to you to make sure that your visuals are the best they can be.
Data visualization skills are "not tool specific"
You'll also realize that many of the things that this book reveals can be applied at just about any level of interaction you face in business today. Ms. Knaflic's dedication to "data-driven decision making" is clear with an early suggestion that the book is written for anyone who wants to communicate some-thing with data. But her words are something I, personally, have already applied outside of that box.
For those who are interested in becoming better OnePager users, and better communicators, this book is a must-have. There's still time for a quick team purchase before the holidays!