OnePager Pro has always been able to build multi-project graphs from Microsoft Project integrated master schedules. Now, OnePager Pro 5.0 can make multi-project graphs from separate Microsoft Project plans, even if you haven't linked them together in an IMS.
We'll show you how to do this in this short article. Just follow these steps:
Load the first Microsoft Project plan, "Project A", which is shown below:

Go to the Microsoft Project Add-ins tab, and click on the OnePager Pro button. When the start screen appears, choose the NEW option.
On the import wizard, click the Change button in the upper-right to change your template to "Multi-Project Gantt Chart – Detailed". This is an important step to combine multiple MS Project plans into a single report:
Click the Create new project view button and OnePager will create a graphic that looks like this: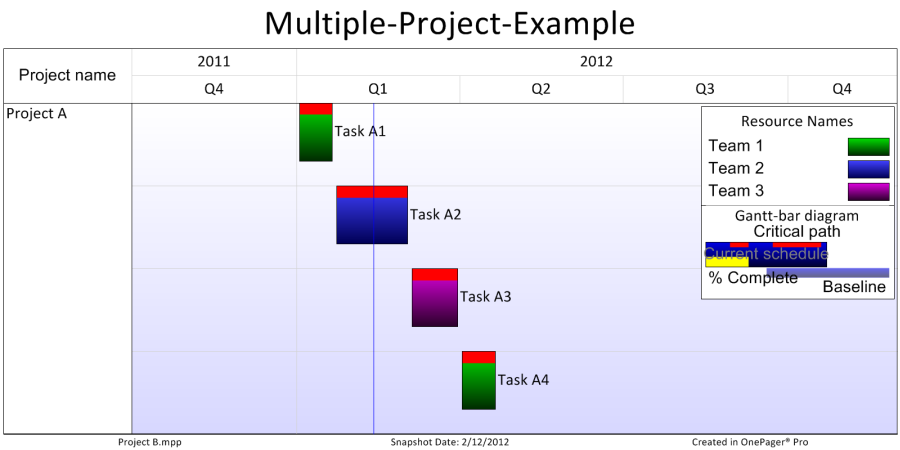 All four of the tasks are grouped into one large swimlane labeled "Project A". Note that the Project Name in the graph is the label (name) of the project-summary task and not the name of the Microsoft Project plan.
Now, go back to Microsoft Project and open Project B:
Launch OnePager Pro from this second Microsoft Project plan. Now instead of creating a new project view, tell OnePager that you want to UPDATE:
On the import wizard, make sure you are updating the project view that you created just a minute ago. You want to ensure that you are going to REPLACE existing snapshot:
Click the yellow Replace dates button, and OnePager Pro will import the second project, placing it in a swimlane below the first: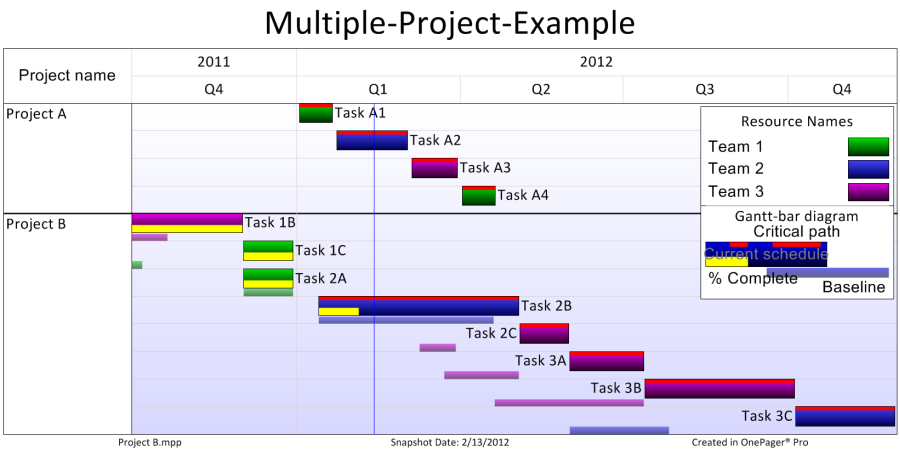 It's that easy. You can now merge other projects into the "Multi-Project-Example" view to summarize as many subprojects as you need.