In our last post, we discussed OnePager's new working time calendar. Defining working time is useful if you want to format working and non-working hours differently, but it's also required if you want more precise reporting on percent complete.
Most project managers update percent complete in Microsoft Project on a task-by-task basis as work is completed. However, others like to "force fit" percent complete to a certain status date, essentially stating that their projects are current through a certain date, and asking Microsoft Project to back into whatever percent complete calculation makes that status date line up: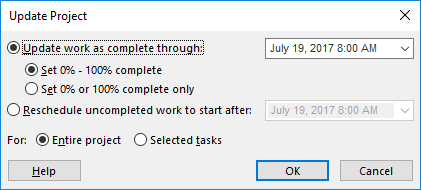 For now, I'll refrain from getting on my soapbox about how inaccurate it is to declare that a project is current through a certain date when the numbers don't back that up.
If you've already made that declaration, you want your progress bars in OnePager to match the percent complete values that you've asked Project to calculate. Most of the time they do, but if you are displaying your OnePager chart based on a 24-hour clock and are asking Project to calculate percent complete based on an 8-hour working day, there are going to be cases where the numeric percent complete that Project has calculated won't perfectly line up with the status date of your project:
OnePager 6.1 enables you to address this by giving you the option to display progress based on working time instead of the standard 24-hour clock. This doesn't change the numeric percent complete values that Project has calculated; rather, it asks OnePager to display those same values based on a working time. Here's how to turn it on:
Go to Home > Project View Properties > Task Bars > Percent Complete Properties
Check the box to Honor Non-Working Time, and then click OK
OnePager will take a second look at all of the percent complete values from Microsoft Project and will nudge them so that they align with the beginning of the next working day, like this:
To make sure that your progress bars in OnePager precisely match what you've computed in Microsoft Project, you may need to go to Data > Replace Snapshot to ensure that your percent complete values are completely up-to-date. You'll also want to make sure that the working calendar in Microsoft Project matches the working calendar in OnePager. If you missed last week's blog post on how to define working time, it will tell you how to make any necessary adjustments.