Many users prefer to plan their projects in PPM tools other than Microsoft Project. You might prefer Smartsheet, Primavera P6, Planisware, or some other tool. When using these PPM tools, unique IDs are just as important as they are in Microsoft Project or Excel.
Primavera P6
Primavera P6 has a built-in unique ID field called Activity ID. Much like Microsoft Project, the Activity ID is constrained to be unique within a single Primavera project, so if you're planning to report on one project at a time in OnePager, using the Activity ID field as-is should work just fine.
Also like Microsoft Project, Activity IDs are not necessarily going to be unique when you combine multiple projects. So, if you are going to be combining multiple Primavera projects into a portfolio, it's a good idea to add a prefix to your Activity IDs to keep them unique. We can take the same approach that we did with Excel, appending an project-specific letter or code in front of the Activity ID itself to keep it unique:
In the example above, we have two projects: Project A and Project B. Notice that the Activity ID field for the two example tasks reads "A1030" and "B1030" instead of just "1030". This ensures that both "1030" tasks are unique across the entire portfolio.
Don't worry; you don't have to make these edits to the Activity ID by hand. Primavera P6 lets you define an Activity ID Prefix, Activity ID Suffix, and Increment value to automatically generate Activity IDs that match the pattern you need.
Start by clicking on the Projects tab in P6:
Once on the Projects tab, select the Primavera project in question and then click on Defaults to establish the desired pattern for your Activity IDs. From there, you'll automatically get unique Activity ID values that OnePager can use to consistently update your charts.
Smartsheet
Smartsheet also has a unique ID field called Row ID. The biggest catch with Smartsheet is that the Row ID field is optional, so by default it's not going to be turned on or included in your OnePager reports.
To turn on the Row ID column in Smartsheet, right-click on any existing field and choose the Insert Column option. When the Insert Column form appears choose a Column Type of Auto/Number/System, and you'll then see Auto-Number available:
Like Primavera P6, Smartsheet gives you the ability to add a prefix to your Row ID, and we do recommend doing this so that each of your Smartsheet projects can be truly unique.
Once the Row ID column is enabled, save your Smartsheet project, and the column will auto-populate with values like this: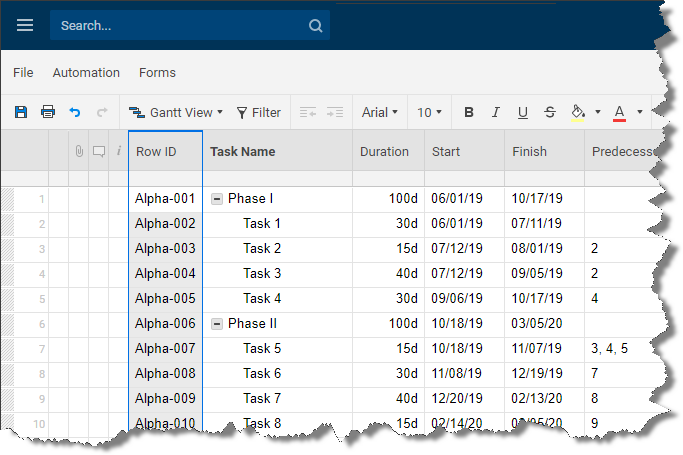 Row IDs in Smartsheet do auto-increment, just like in other PPM tools, so as you add new rows to your Smartsheet project, you should get new Row IDs automatically, through you may have to save your project before they'll actually appear.
For more information on unique IDs in Smartsheet, we have a detailed article on how to build multi-project Gantt charts from Smartsheet in OnePager.
Planisware
Every implementation of Planisware is going to be a little bit different, but in general, the Internal Number field is a good one to use for your unique ID. It follows the two main principles that OnePager expects in a unique ID:
It's unique
It's consistent
If you have other fields in Planisware that you know with certainty meet these two requirements, then you can use them in place of Internal Number, but when in doubt, we recommend sticking with what works best for most of our other users.