For anyone who has created a schedule, one of the essential things to know is percent complete. Users of OnePager know we already offer ways to show percent complete via a yellow bar, text, or a checkmark. However, we will dive into another method: color coding different tasks based on a percent complete range.
We will first want to determine what percent complete ranges we want to create rules for and what color will represent them. In this example, I will be using the following ranges.
0% – 25% | 26% – 50% | 51% – 75% | 76% – 100%
You will need to navigate to Chart Properties > Task Bars > Manage Rules in your chart. Here we will create the rules to apply color to specific percent complete ranges.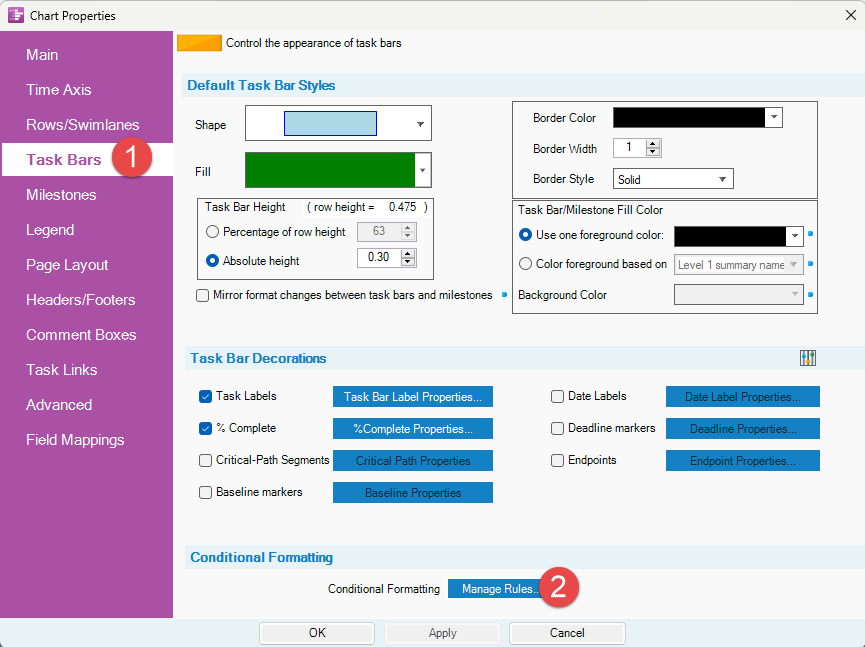 As you can see below, I have created four rules for the ranges I decided on above, along with the corresponding colors.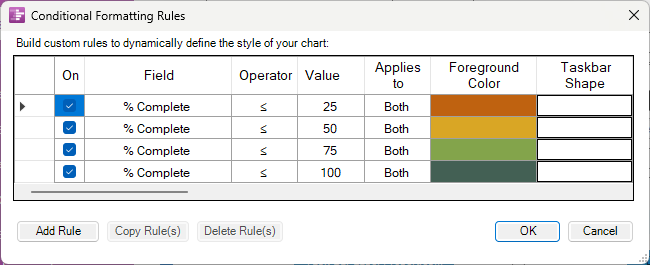 You will want to create the rules with the lowest value at the top and then work your way down. This is due to the rules' priorities; if you do not have them set in the correct order, you will see specific rules overwrite others.

Once all the rules are in place, click OK to close Conditional Formatting Rules and OK again to close Chart Properties. You will see that your tasks are color-coded based on the rules you created. Using this method is an easy way to visually show the percent complete range of your tasks.