If you manage projects in Excel, you've probably come across the need to assign tasks to different phases, especially if your project is somewhat complex. There is a right way and a wrong way to set up phases in Excel, and structuring your phases correctly will make it easier to format your charts in OnePager Express.
Many people think that the relationship between a task and a phase in Excel should look like it does in Microsoft Project, with the phase on top, and the tasks indented underneath: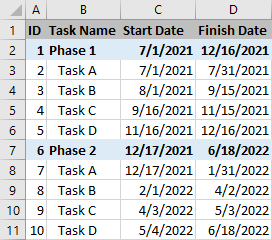 As clean as this looks, the reality is that it doesn't work in Excel the same way that it does with Microsoft Project. The bolded text and indentation gives the impression of a parent/child relationship between the phases and the tasks, but this is really just cosmetic. There is no logical relationship between the phases and the tasks in this layout, and as a result, Gantt charts and timelines built from Excel files like these will lack depth.
The correct way to assign tasks to phases is to have a dedicated Phase column in Excel that assigns a phase to each task, line-by-line:
In this example, each task of the project is assigned to a phase based on whatever value is specified in the Phase column. It doesn't look as clean as the first example, since the phase name repeats for each task, but this is the most reliable way to ensure that every task in your project is assigned to the correct phase.
Once you have correctly associated tasks and phases, you can import your Excel plan into OnePager and use the Phase field to drive swimlanes, timelines, color-assignments and more:

Further Reading
Here are step-by-step instructions on how to create timelines and Gantt charts that make use of phase information from Excel: