Projects are comprised of many moving parts, but one of the most important aspects are the resources. Many would argue that you cannot complete a project without resources, since they are the ones doing the work. Managing work hours for your resources can be crucial to a project. In this blog post, we will go over how to create a view that allows you to show resource usage.
In Microsoft Project, a resource usage view will show you each resource and the hours associated with each of their tasks. However, this view is very limited in its visual effectiveness.
Our first step in creating a visually appealing resource usage view is to create a Gantt chart from our project plan. Once completed, we can assign swimlanes based on resource so that all tasks assigned to a given person appear grouped together. We can do that by going to Chart Properties > Rows/Swimlanes > Swimlanes and selecting "Resource Names" in the Group by dropdown.

Next, we can show the work hours for each task. We can accomplish this by utilizing OnePager's Text Columns. To enable a Text Column, go to Chart Properties > Rows/Swimlanes > Text Columns, check the "Display data from" box, and select "Work" in the dropdown.

In our OnePager chart, we should see all tasks grouped by the associated resource, followed by the working hours per task in a visually appealing Gantt chart layout. Using OnePager is an excellent way not only to show the usage of all your resources, but also to have it in a format that is easy to understand.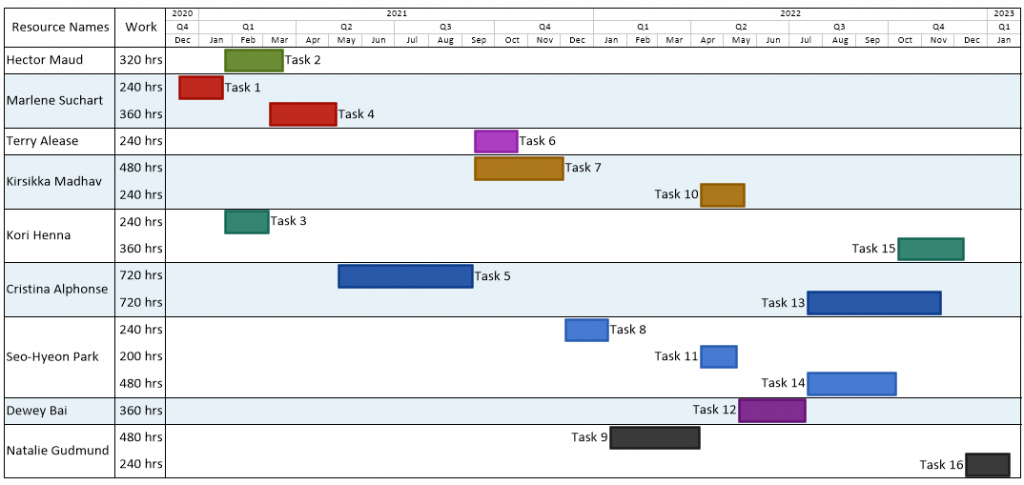 In this exercise, we used Microsoft Project, but you can achieve the same results if you have the working hours and Resources listed in different source types like Smartsheet, Excel, or Primavera P6.