Did you know that OnePager Pro can put horizontal (zebra) stripes in the background of your project view? With OnePager Pro 5.0, you can further decorate your project view with horizontal stripes for rows or for swimlanes.
Get started by going to Home->Project View Properties->Advanced. Look for the Chart Background section in the upper right. Notice the two color choosers, Color 1 and Color 2 and the two radio buttons marked Row stripes and Swimlane stripes.
There are just two things to do: (1) decide whether you are doing row stripes or swimlane stripes, and (2) selecting the two alternating colors for your stripes from the color choosers. That's all there is to it.
Let's do an example, taking this boring project view and spicing it up with swimlane stripes: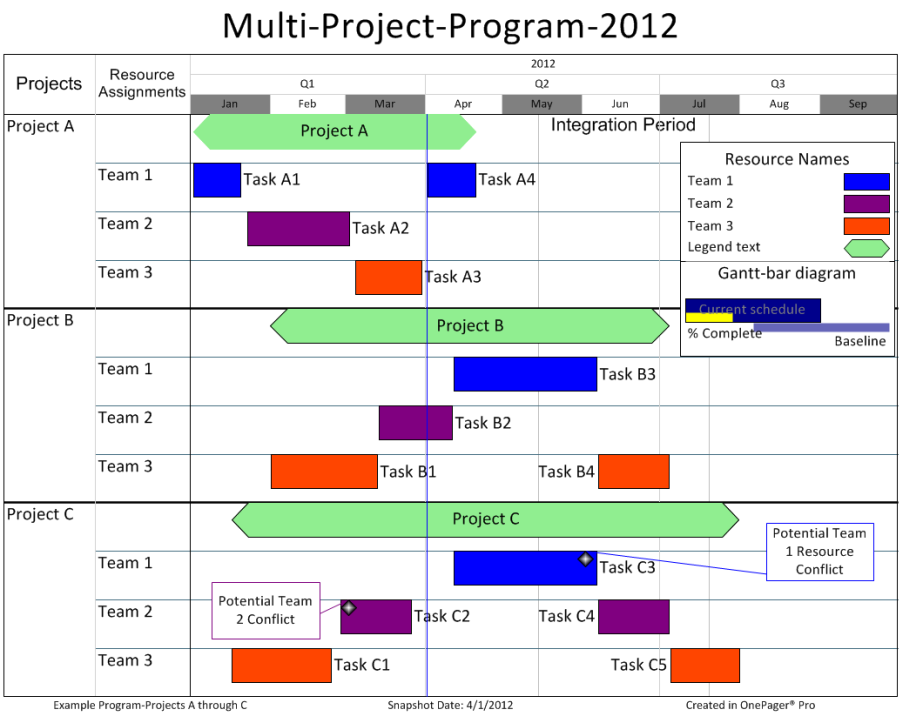 Now go to Project View Properties as described above and set it up for swimlane stripes by setting the controls shown in the Chart Background section shown below:
When you click the OK button, your project view will look like this:
If you want to put stripes on rows just click the Row stripes radio button instead of the Swimlane stripes button and your view will look like this: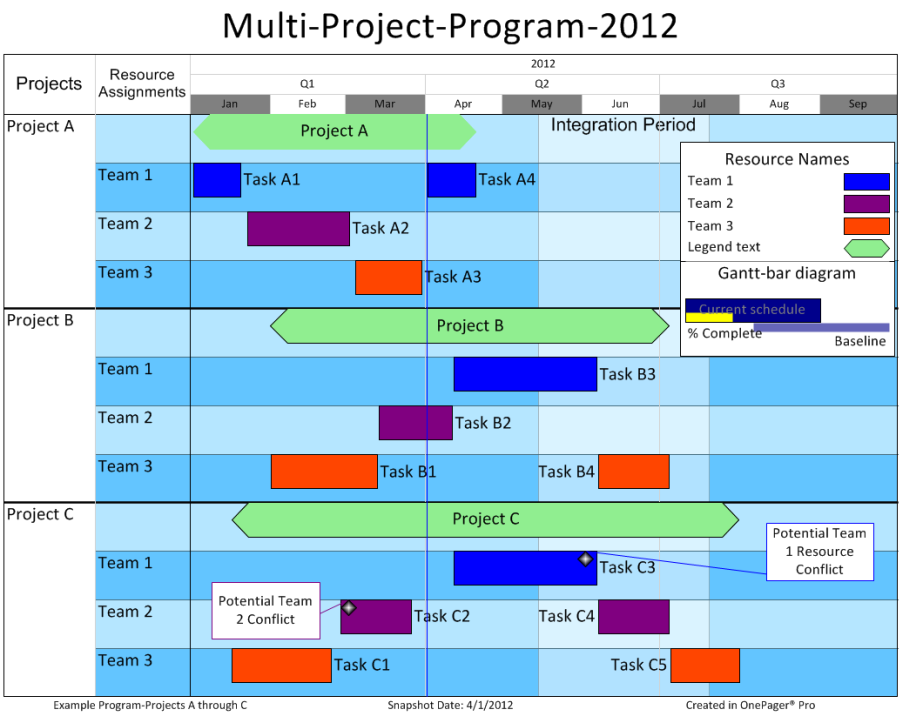 Using zebra stripes for either rows or swimlanes is a way to separate out views that may have a lot of information in rows or swimlanes. It's a great way to help your audience's eyes focus on what is taking place in a particular section of your project plan. And, it's Gantt Art.
A few items you should keep in mind:
Zebra stripes include the swimlane or row label areas. Of course, with swimlane striping, the row label is also included in the background stripes.
OnePager builds the row or swimlanes stripes from the bottom of the view up starting with Color 2, then Color 1 and back to Color 2 until it reaches the top row or swimlane depending on the striping mode.
OnePager keeps the stripes alternating between colors 1 and 2 even when you move rows or swimlanes up or down since the stripes are part of the background and not strictly associated with the row or swimlane itself.
Horizontal stripes are layered at the back of your document so that they don't obscure other things like curtains and comment boxes.
If you don't want the row or swimlane titles included in the zebra stripes, just use the paint bucket on the Home tab ribbon to change their background colors by hand.
OnePager's zebra striping feature is another tool in the Gantt Artist's kit for preparing concise, focused, and colorful schedule charts for presentation to project team members, executives, and customers.