In our last post, we discussed the improvements to text editing that OnePager 7.0 makes available. Along those same lines, OnePager version 7.0.6 and later offers additional flexibility to customize the order in which text elements appear relative to each other.
Some users prefer to display not only the name of their tasks, but also dates and percent complete as text next to the task names. While not everyone places a lot of weight on which of these pieces of text comes first, it does matter to some people, so we've made it configurable.
For example, if you display both the task name and the dates, perhaps you always want the task name closest to the bar, and the date farther out:
Conversely, maybe you prefer to have the date closest to the task instead:

The order of your OnePager text elements is controlled under Chart Properties > Task Bars. In OnePager 7.0.6 and later, you will see this button:
Clicking this button will launch a separate screen that lets you control the relative order of each different text element: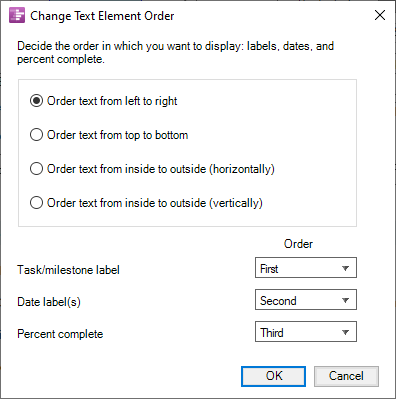 Before choosing the order itself, you will want to decide if you want to order text horizontally or vertically. Most users stick with horizontal text ordering, but this example shows what vertical text ordering looks like, with the task name on top and the dates on the bottom:
You have the option to order things literally top-to-bottom or left-to-right, but can also order inside-to-outside, which ensures that a given piece of text is always closest to the task bar.
Once you've selected the overall ordering scheme, you can assign ranks to each of the individual text elements, to determine which should come first, second, or third.