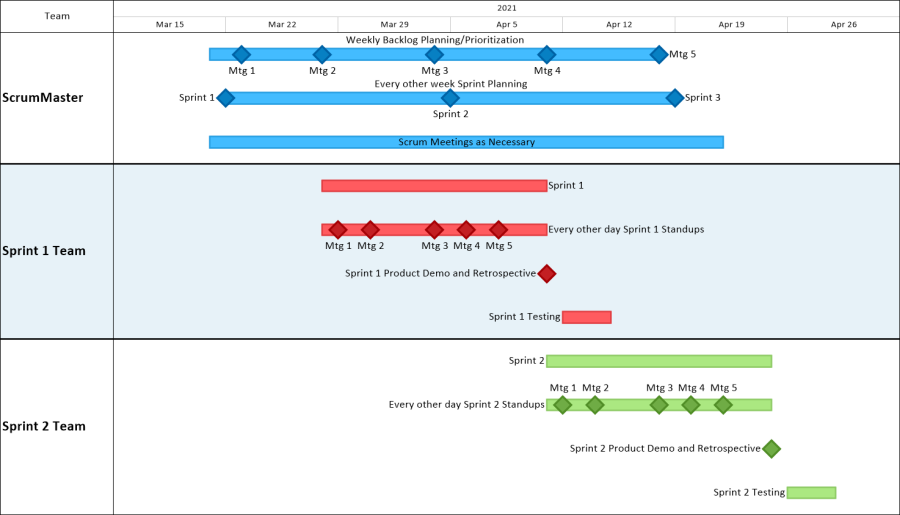 Creating an Agile timeline or a sprint schedule is easy, especially if you already keep a list of important meetings and deliverables in a Microsoft Excel spreadsheet. OnePager Express will take your task list from Excel and create timelines that everyone on your team can understand. OnePager Express is a Microsoft Excel add-in, so you can launch it directly from Excel without having to export or convert your data. Download a 15-day free trial today, and follow these steps to build your Agile timeline:
Open your task list in Excel. Your list can be in any format you like, but you might want to include things like sprints, standup meetings, ongoing backlog planning, and other scrum meetings:

You might want to group your tasks by sprint or color-code tasks by the responsible team. To do this, insert a "Team" column (Column E above), and specify the person or team assigned to each task. We will use this for grouping in a minute. To color-code by a particular sprint, or by any other category related to your tasks, create a "Task Category" column (Column F above) and enter the category for each task.
From the Add-Ins tab of Excel, click OnePager Express. (If you haven't purchased OnePager Express yet, you can download a 15-day free trial.) From the Start screen, click New.

OnePager Express will launch and ask you to name your Agile timeline, which you should do in the Title of New Chart field shown below. You don't need to change any other settings on this page for now:

Click the Next button to tell OnePager Express which Excel columns you want to import for the Agile timeline:

For Task label, select the "Event Description" column. For Color by, choose the "Task Category" column.
Click on Create new chart. OnePager Express will import your task list from Excel and begin to create an Agile schedule that highlights all of the important tasks for each team:

On your timeline, you will now see individual symbols for each meeting. You might want to move these up or down to lie on top of an overall recurring meeting theme, like this:

You can continue to fine-tune your schedule, modifying the layout and changing colors until you get something that looks like this:

Customizable
You can customize your OnePager Express agile project timeline even more before sharing it in a standup, or with other ScrumMasters:
Show original sprint dates or percent complete for a sprint
Add comment boxes, text boxes, or images to your task board
Change the time scale to show all or part of a longer Agile schedule
Once you've set up your Agile timeline the first time, it's easy to update it as your schedule changes from day to day. OnePager Express automatically remembers all of your settings, and will use the same template to create updated views of the same schedule as you refresh your task list in Excel.
Get started today by downloading a free trial or attending one of our demonstration webinars.
15-Day
Free Trial