OnePager builds Gantt charts from Asana by importing key tasks, and then grouping them by section, like this: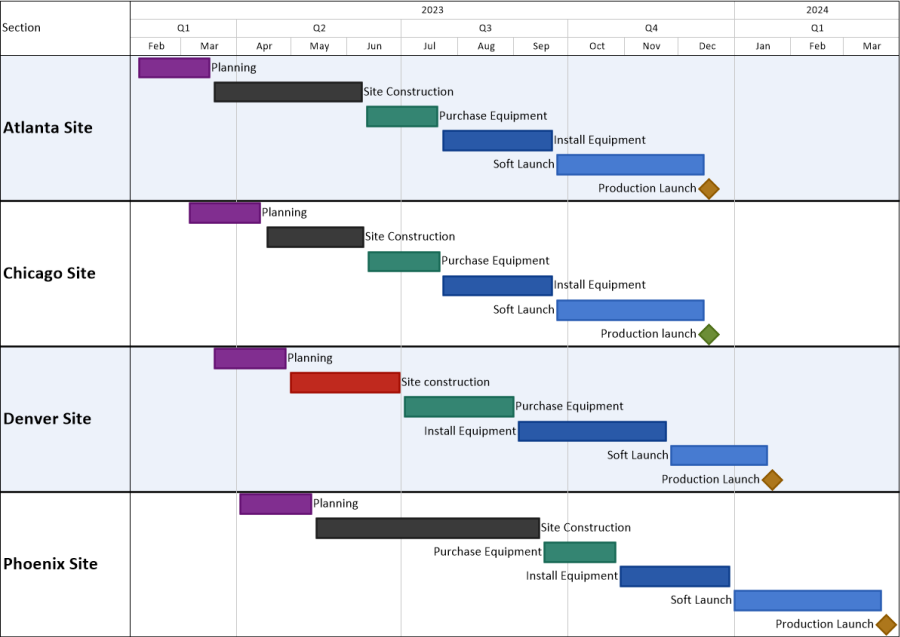 15-Day
Free Trial

If you don't already have OnePager, click the button above to download a free trial. Then, follow these instructions to get started:
Start with your project in Asana and switch to the List view. This example project is separated into sections with multiple tasks per section:

Click on the Show Fields button and see if you already have a field called OnePager in your Asana account. If so, turn it on. If not, then click on Manage custom fields instead:

If you already have a OnePager custom field, skip to the next step. Otherwise, click on Add custom field and either Choose from library or Create a new Single-select field called OnePager with Yes/No values, like this:

With the OnePager custom field inserted into your Asana project, place a "Yes" next to any tasks that you'd like to import into your OnePager Gantt chart:

Now, launch OnePager from your desktop:

On the OnePager start screen, choose New to start building a new Asana Gantt chart:

From the import wizard, go to Select > BROWSE Asana:

If this is your first time using OnePager with Asana, you will see a sign-in screen from Asana so that OnePager can connect to your Asana account.

Once connected to Asana, OnePager will display a list of all of your available projects. Click on the one that you'd like to import, and then click OK:

Back on the import wizard, select the OnePager Yes/No field as your selection filter:

To finish the import from Asana, click Create New Chart. Once the chart appears on the screen, go to Home > Chart Properties > Rows/Swimlanes and set your swimlanes to look at the Section from Asana:

Click OK, and OnePager will group your Gantt chart into swimlanes based on the sections of your Asana project:

To add a splash of color to your Gantt chart, go to Home > Chart Properties > Task Bars, and change your foreground color so that it's based on the task name:

Click OK again, and OnePager will color-code the tasks in your Gantt chart based on the task name from Asana:

Because this project has multiple tasks with the same name, each family of tasks from Asana will share a common color.
Get started today by downloading a free trial.
15-Day
Free Trial