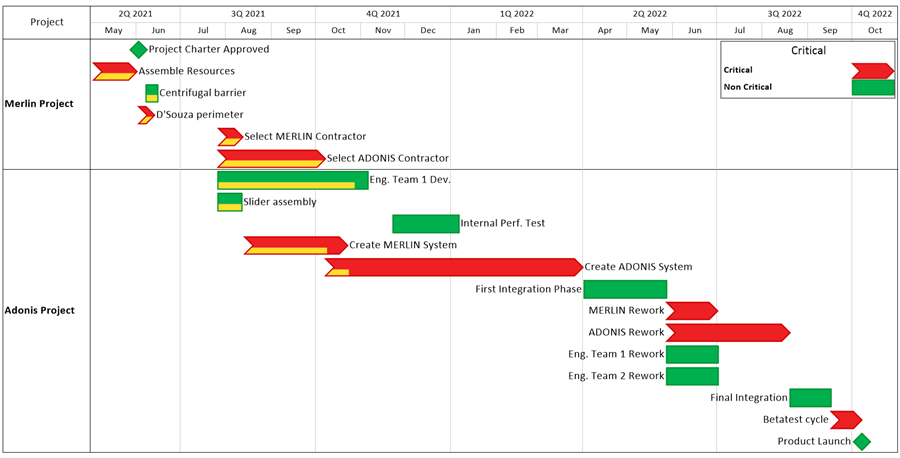 If you use Excel to manage your projects, and would like to visualize the critical path, you can do it in OnePager Express:
Simple Instructions
These instructions are designed for people don't already have a project plan in Excel. You can use our example Excel project plan as a starting point and follow these abbreviated steps to create your chart in a matter of minutes.
Start by downloading these two sample files to your downloads folder or to your desktop. The Excel file contains the project data, and the *.tat file is the OnePager template that will drive the formatting of the chart you're about to create.

Excel Gantt Chart Critical Path.xlsx (Excel File)


Excel Gantt Chart Critical Path.tat (OnePager Template)
Open the Excel file that you just downloaded. From Excel's Add-Ins tab, click the OnePager Express button:

On the Start screen, click NEW to begin building a new critical path chart:

On the next screen, locate the Starting Template section, and go to Change > BROWSE FILES. Browse to your desktop and select the Excel Gantt Chart Critical Path.tat that you downloaded in step #1:

With your Excel file loaded and your OnePager template selected, click Next, and then on the following screen, click Create new chart. OnePager will import the data from your Excel file and create a critical path chart in just a few seconds:
Now that you've done this, you can go back to Excel and adjust the spreadsheet to match the dates and deliverables of your real-world project plan. Once you've done this, follow the same steps again with your updated Excel sheet, and you'll be well on your way! 15-Day
Free Trial
Detailed Instructions
These instructions are designed for people who have already built a project plan in Excel and need to import what they already have into OnePager. These instructions also provide more details about customization along the way.
First, let's assume that you've created a new column in Excel that has a head of Critical. In our example, we'll also label our header "Critical," and put a value of Yes or No in this column. A value of "Yes" means it's on the critical path.
Click the OnePager Express button to create a New Chart as a starting point.

Once the new OnePager chart is up, open Home > Chart Properties > Task Bars > Manage Rules.

Once the Conditional Formatting Rules dialog box is open, add a conditional formatting rule that tells OnePager to make your shapes appear differently, in some way (color, shape, border formatting, or font), based on the Yes and No values in your Critical column.
After you click OK twice, you should see the changes take place. The legend will let you clearly see which tasks and milestones are on the critical path. In our example, we've used red chevrons to show the critical path in the Gantt chart.
Try OnePager Express Gantt chart software today by downloading a free trial.
15-Day
Free Trial