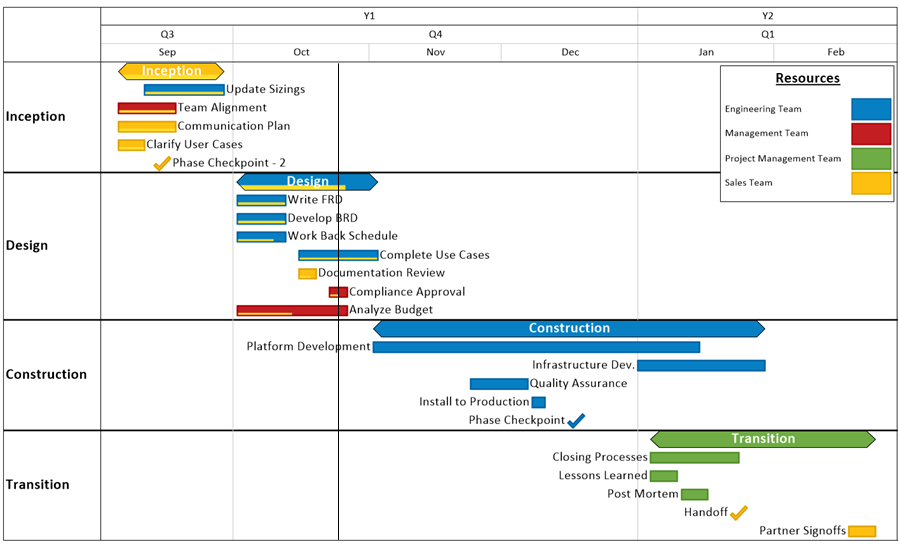 If you don't have OnePager Express, you can download a free trial and follow these step-by-step instructions to build an Excel schedule view:
Build a simple project plan in Excel. In this example, we have a separate row for each task, with a start and finish date. We also specified which phase of the project the tasks belong to:

Double-click the OnePager Express icon on your desktop. From the Start screen that appears, choose New.

Choose your Excel spreadsheet as the source file for your project timeline.

OnePager Express will launch an easy import wizard. Give your Excel schedule a name, and specify a snapshot (status date) as shown below:

Click Next and double-check that the columns you're importing from Excel are the ones you want in your Excel project plan:

Click on the Create new chart to build a summary of your Excel schedule, and customize the look and feel if you'd like:

You now have an eye-catching Gantt chart from Excel that you can share with the rest of your team. Just go to Home > Copy, and paste your chart into PowerPoint.
Customizable
It's really easy to get started! The best part is that you can customize your OnePager Express report to:
Change colors, symbols, and fonts with conditional formatting
Automatically group tasks into swimlanes by resources, project phase, or any other Microsoft Excel data
Update your report (without starting over) any time your Excel project plan changes
Add comment boxes, text boxes, curtains, or images to your Gantt chart in Excel
OnePager Express is the easiest way to make PowerPoint-ready project plans in Excel. Join the thousands of people just like you who use OnePager today!
Get started today by downloading a free trial or attending one of our demonstration webinars.
15-Day
Free Trial