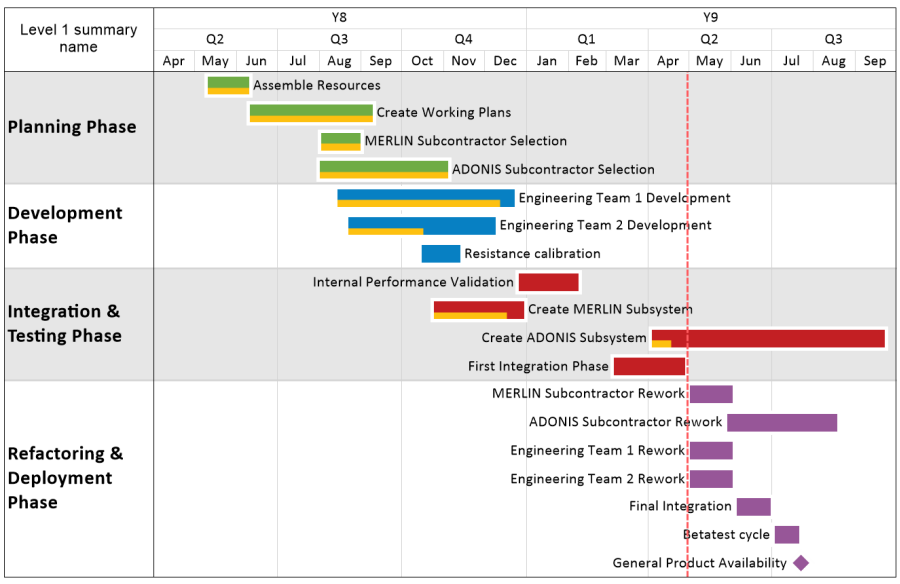 Stop wasting time transferring your project to PowerPoint, and let OnePager Pro project presentation software do the work for you. OnePager Pro is a Gantt chart maker that takes your existing plan from MS Project and builds presentation graphics that are perfect for PowerPoint, in a matter of minutes.
You can watch a video tutorial on this topic or continue reading for step-by-step instructions on how to make a Gantt chart for PowerPoint:
Open your Microsoft Project plan. The OnePager Pro Gantt chart maker can present one individual project or several projects at once, but this walkthrough will demonstrate a single project presentation.
If your project plan is lengthy, you might want to only include parts of it in your PowerPoint chart. To filter specific tasks or milestones, insert a flag column (Flag 20 in this example) into your Microsoft Project plan and place a "Yes" next to the tasks you want to present in PowerPoint:

Double-click the OnePager Pro icon on your desktop. If you don't have OnePager Pro project presentation software, you can download a 15-day free trial. From the Start screen that appears, choose New.

Choose your Microsoft Project plan as the source file for your OnePager Gantt chart.

The OnePager Pro Gantt chart creator will ask you to name your report. This screen also allows you to choose how you want to filter your Microsoft Project data into OnePager Pro. In this case, we're filtering on Flag 20, but you can also create a custom filter based on other aspects of your Microsoft Project plan:

Click the Create new chart button to run the Gantt chart generator. You will immediately get Gantt Art - a PowerPoint-ready timeline slide like the Gantt chart example shown below:

From here, all you need to do is save your Gantt chart to PowerPoint (*.pptx) format, and you're ready to make your presentation!

Customizable
This Gantt chart example is quite basic, so you can learn how to create a Gantt chart for PowerPoint quickly. However, if you have more time and would like to customize your OnePager Pro Gantt chart before pasting it into PowerPoint, you'll find that it's also very easy to do, using the additional features of the Gantt chart generator:
Use conditional formatting to allow your data to drive coloring, shapes, fills, shape size, and more!
Group, sort tasks by any field in Microsoft Project (resources, phase, etc.).
Generate a project legend that makes it easy for your audience to understand your PowerPoint timeline slide.
Reposition tasks or milestones anywhere on the page with a drag and drop interface.
Visually display important project data like percent complete, baselines, and critical path.
Change task labels without corrupting your original Microsoft Project file.
Customize the time axis to show all or part of a project, and to show any time unit (quarters, fiscal years, etc.)
Refresh your project plan with updated dates and task completion percentages any time your Microsoft Project plan changes.
Best of all, the OnePager Gantt chart creator will save you hours of time and frustration every week, and saves you the hassle of updating your presentation graphics each time your project changes.
Get started today by downloading a free trial of OnePager Pro project presentation software or attending one of our demonstration webinars. Or, you can read one of our other articles on how to create a Gantt chart for a PowerPoint chart in minutes instead of hours.
15-Day
Free Trial
Video Tutorial
15-Day
Free Trial