OnePager works with PPM platforms like Microsoft Project and Primavera P6 to support forensic schedule analyses like these: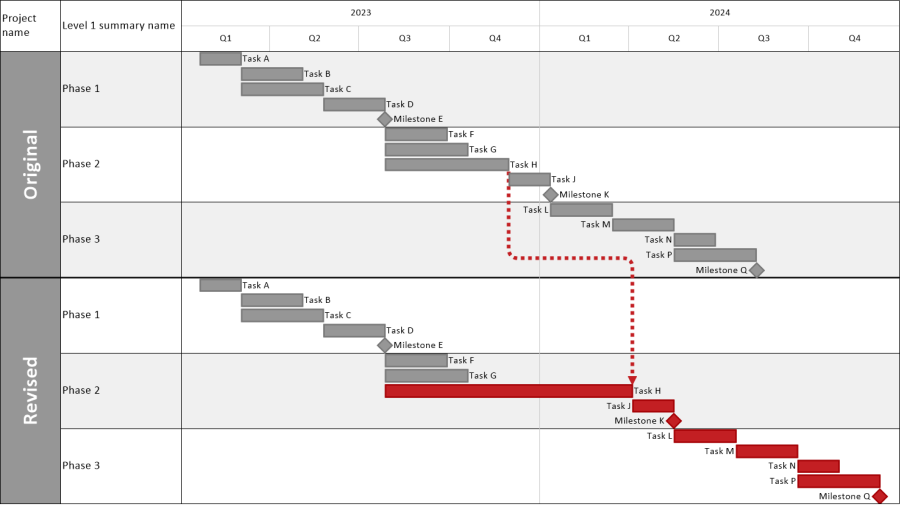 15-Day
Free Trial

Get started by downloading a free trial of OnePager, then follow these instructions to see to create your own forensic delay analysis:
In this example, we will use Microsoft Project, though you can just as easily perform the same type of forensic analysis with Primavera P6 schedules. We'll start with the original project plan, which looks like this:

This project has already been baselined so that it's clear what changes take place between now and the next revision. Notice that we have selected key tasks and milestones with Flag20 which will drive which activities appear in the OnePager chart.

Now, we can save a copy of the project plan and start making changes. In this case, we'll create a delay by extending the duration of one of the tasks on the critical path:

We now have two copies of the same Microsoft Project schedule: the original version, and the revised version with the schedule change. We can bring them both into OnePager to compare them side-by-side to see what is causing any delays. To do this, launch OnePager from your desktop:

On the start screen, click NEW to begin building a new forensic schedule delay analysis:

On the import wizard, click SELECT > BROWSE MS Project Files to begin building a new forensic schedule delay analysis:

In order to identify any delays in the schedule, we need to import both the original and the revised project plans into the same chart:

Once you have selected both project plans, click OK.

Change your Starting Template to the Forensic Schedule Analysis template. Versions of this template are available for download for both Microsoft Project and Primavera P6 here:

Forensic Schedule Analysis (Project).tat


Forensic Schedule Analysis (Primavera P6).tat
With your projects imported and your template selected, give your analysis report a name, and then click Create New Chart:

Initially, OnePager creates a forensic schedule delay analysis chart that looks like this:

The first set of swimlanes separates the original project plan from the revised project plan. The second set of swimlanes breaks each project up by phase.

Notice that in the Microsoft Project example, a number of the tasks beginning in Phase 2 of the revised plan are red, indicating a schedule slip. OnePager does this by looking at the Finish Variance from Microsoft Project. You can see this conditional formatting rule by going to Home > Chart Properties > Task Bars and clicking on the Manage Rules button:

Computation of finish variance is not currently supported between Primavera P6 and OnePager.

In this case, the delay appears to start with "Task H", so we can grab both the original and revised versions of that task with the mouse, and then go to Insert > Task Link to visually link the two versions of the task, further underscoring where the schedule delay began:
Get started today by downloading a free trial and begin building your own forensic schedule delay analysis.
15-Day
Free Trial
Related Articles