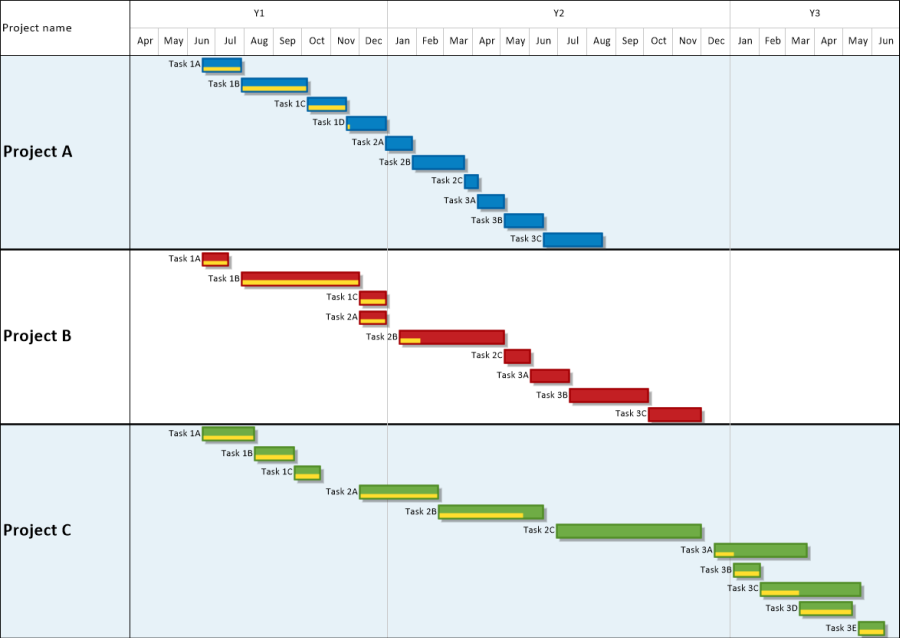 OnePager Pro is the only Microsoft-certified Gantt chart application that is able to connect directly to your Project Server or PWA environment without having to first go through Microsoft Project on the desktop. OnePager Pro works with Project Server 2010, 2013, and 2016. Here's how to build a Gantt chart directly from Project Server:
Start OnePager Pro from your desktop. If you don't have OnePager Pro yet, download a free trial and follow along:
From the start screen, choose NEW to start creating your Gantt chart:
Tell OnePager that you want to connect directly to Project Server instead of browsing for individual *.mpp files:
Connect to your Project Server account and select one or more project plans to include in your Gantt chart:
In this example, the import wizard confirms that we're about to import three project plans from Project Server. Click the Create new project view button to create a multi-project Gantt chart:
OnePager imports all three Project Server documents, groups each subproject into a swimlane, and builds a Gantt chart like this:
From here, you can customize layout, colors, and hundreds of other options to get the perfect Project Server Gantt charts in minutes. When you're happy, export to PowerPoint, PDF, or a number of other formats to share with your team.
Try a OnePager Gantt chart with Project Server today by downloading a free trial.
15-Day
Free Trial