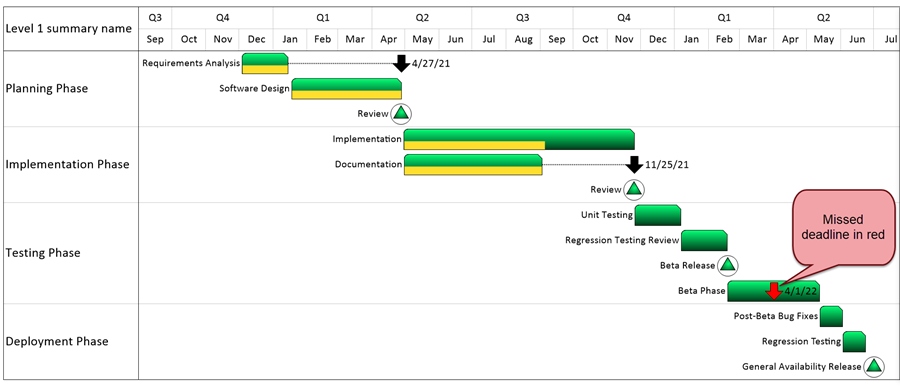 OnePager Pro presentation software creates timelines and Gantt charts that can show each project deadline on your Gantt chart, so it's easy for everyone to understand. You can download a free trial of OnePager Pro and follow along with this short tutorial:
Start with a Microsoft Project plan, which contains a few deadlines. Notice how hard it is to see the missed deadline in Microsoft Project:
By the way, you can use "Flag 20" to filter your project plan before creating your report.
Start OnePager by double-clicking the OnePager Pro icon on your desktop. From the Start screen that appears, choose New.

Choose your Microsoft Project plan as the source file for your OnePager Gantt chart.

When the import wizard appears, give your project report a name, and a status date as shown below:

OnePager Pro comes pre-loaded with a standard template that has been preconfigured for deadline reporting. Under Starting Template click Change..., then go to BROWSE..., and then look in the Templates folder of your OnePager files for Deadline View.tat.

Click the Create new chart button to build your Gantt chart, complete with deadline tracking:

OnePager's deadline template automatically shows your deadlines as downward-pointing arrows, though you can customize this to any other symbol if you want. Notice how the delayed deadline is automatically colored red to help it stand out. You can set up your own rules for how deadlines should look when they are on track versus when they have been missed.
OnePager Pro is the easiest way to track project deadlines on a timeline or Gantt chart without having to be an expert in Microsoft Project, or drawing project reports by hand in PowerPoint.
Get started today by downloading a free trial.
15-Day
Free Trial