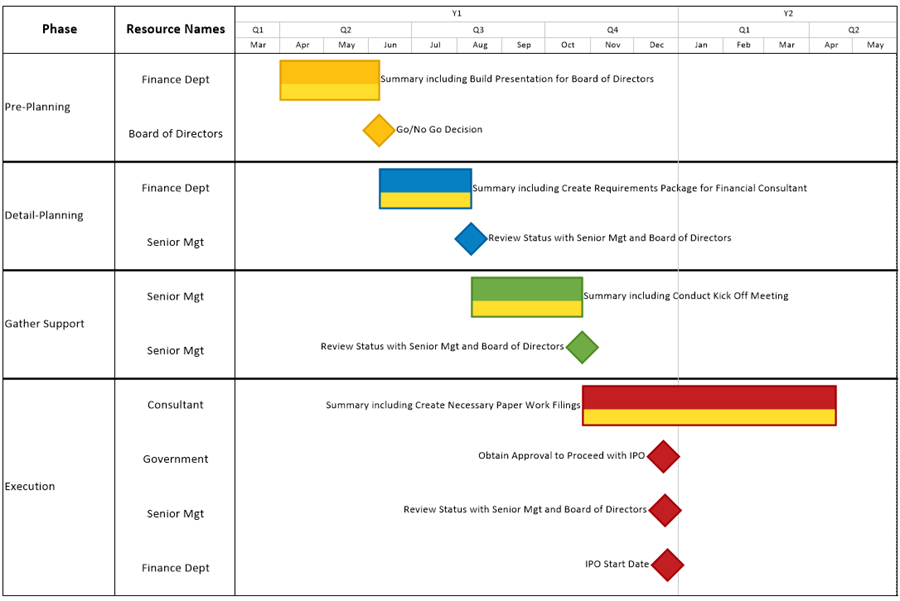 OnePager Pro timeline software can do this easily for you using its virtual summary task feature. You can download a free trial of OnePager Pro to try it out.
This article shows an example of a Microsoft Project file with many tasks all at the same level that would be difficult to discuss from the Microsoft Project file view shown below:

With OnePager Pro you can quickly prepare a chart of this project with rolled-up summary tasks to focus the schedule conversation.
Double-click the OnePager Pro icon on your desktop. From the Start screen that appears, choose New. Then, select your Microsoft Project source file and give your chart a name in the form shown below:

Click the Create new chart button to import your data from Microsoft Project and create your first Gantt chart.

For the first virtual summary task in the Pre-Planning swimlane, select all the task markers with your mouse, right-click on one of them and select Make virtual summary task from the list in the context menu. The following will result:

Next, repeat this process as many times as necessary to achieve the level of roll-up desired. In the example, the remaining swimlane tasks were summarized but milestone markers were not. After performing this step, the chart will resemble the one below:

Finally, adjust the size of the chart by going to Home > Hide Rows, which will get rid of the empty rows:

When these functions are finished, the chart will look like the figure below:

This article shows how OnePager Pro can take a large number of tasks and summarize them into a summary roll-up presentation. As a continuing benefit, OnePager Pro with its ability to take snapshots during the course of a project, permits the project manager to monitor actual schedule against baseline and prepare clear and accurate schedule visualizations for project status presentations.
Using OnePager Pro will allow you to create dynamic, informative project presentations with the click of a button, and it eliminates the need to rebuild your presentation by hand every time your project schedule changes.
Get started today by downloading a free trial or attending one of our demonstration webinars.
15-Day
Free Trial