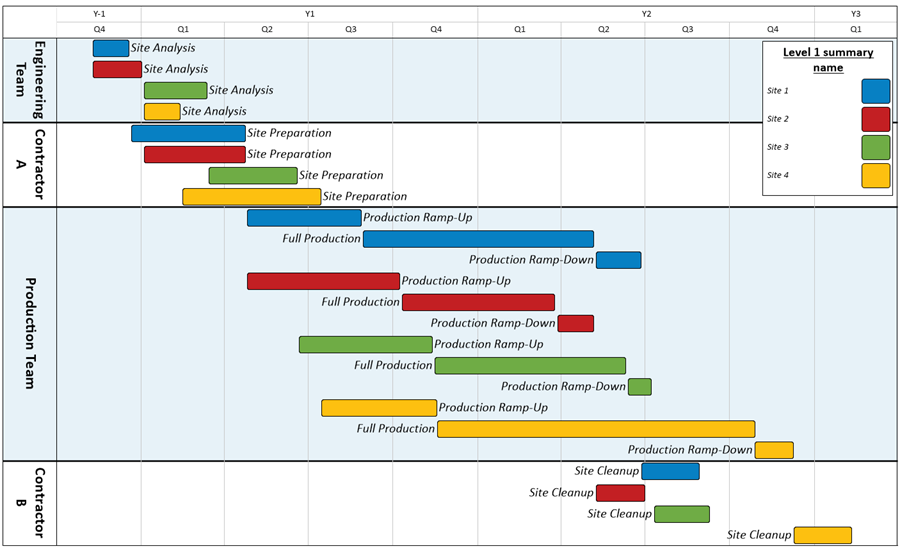 OnePager Pro project presentation software is the easiest way to create a resource timeline. Because OnePager Pro works with Microsoft Project, it can build a resource timeline based on your existing data, which will save you considerable time and frustration. You can follow along with these step-by-step instructions with a free trial of OnePager Pro.
Let's start with a simple Microsoft Project plan:
The Microsoft Project plan shown below lists the key tasks and milestones for the project. Notice that each task has a resource assignment in the "Resource Names" column.

OnePager Pro allows you to select the tasks and milestones that you want to include in your resource timeline. The project plan above is filtered using the "Flag 20" column.
Now, double-click the OnePager Pro icon on your desktop. From the Start screen that appears, choose New.

Choose your Microsoft Project plan as the source file for your OnePager Gantt chart.

OnePager Pro's import wizard will appear. You can give your resource report a name, specify the "Flag 20" filter for import, and specify a Snapshot date, which is a date-specific version of your resource report:

OnePager Pro will create the following report by default. Note that the plan is grouped by project phases, and that each set of resources has its own unique color:

We'll want to make a few modifications to the default chart to create a resource timeline. Go to Home > Chart Properties and click on the Rows & Swimlanes tab.
Change the Group by setting to "Resource Names".

Click OK. OnePager Pro will rearrange your report so that each resource has its own swimlane on the timeline, making it very easy to see which resources are working at any point in time:

Finally, let's color-code the resource timeline by site instead of by resources, since we're already using resources to group and sort the tasks on the timeline. Go to Go to Home > Chart Properties and click on the Task Bars tab.
Change the Color-code based on setting to "Level 1 Summary Name", which is the site of your Microsoft Project schedule:

Click OK. OnePager Pro will change the color scheme of your resource timeline, giving a distinct color to each site of the project. This makes it easy to see which site each task belongs to. Notice that the legend now reflects the project sites instead of the resources:

From here, you can make additional customizations, or you can copy and paste your resource timeline into a PowerPoint presentation or e-mail to share with others on your team.
OnePager Pro is the easiest way to create resource timelines from Microsoft Project plans. Try it for yourself today by downloading a free trial or attending one of our demonstration webinars.
15-Day
Free Trial