OnePager Pro
is presentation software for Microsoft Project that lets you quickly create and update color-coded project status reports. Don't have OnePager Pro yet? You can download a
free trial
and try it out today.
Start building your project status report with these easy steps:
Start with a Microsoft Project plan. Microsoft Project automatically assigns a status to each task in your plan:

To build your project report, double-click the OnePager Pro icon on your desktop. From the Start screen that pops up, choose New.

Choose your Microsoft Project plan as the source file for your OnePager Gantt chart.

When the import wizard appears, click the Change button that appears in the Starting Template section, and select the "Status (RAG) View" template that comes with the software. This template will quickly and easily color-code your project status report based on the "Status" column in Microsoft Project, though you can choose to color-code by a different status calculation later if you need to.


Give your chart a name, and pick today's date as your snapshot date, as shown below:

Clicking the Create New Chart button will build a color-coded project status report like this:

Curious how this works? OnePager Pro adds conditional formatting to Microsoft Project, which means you can have OnePager Pro look at your Microsoft Project plan and assign colors, shapes, and fonts automatically based on your data. No more color-coding Gantt charts by hand in PowerPoint.
Going to Home > Chart Properties > Task Bars and then clicking on the Manage Rules button will show you the conditional formatting rules that look at the "Status" column in Microsoft Project to assign the colors automatically. OnePager Pro is flexible, so you can set up other rules to look at different Microsoft Project columns if you track status differently: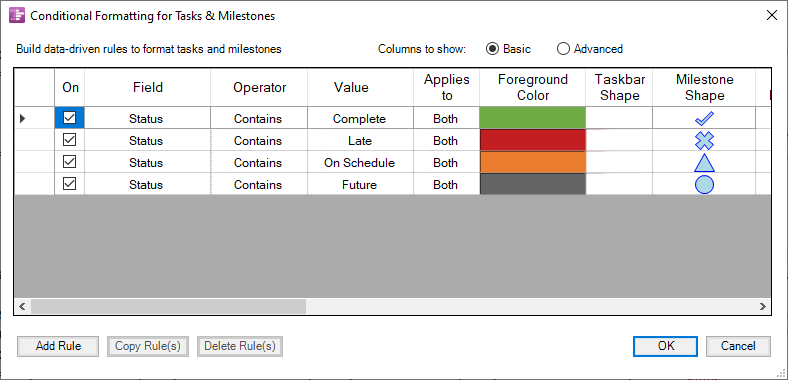 Updating
OnePager Pro's conditional formatting for Microsoft Project becomes even more powerful as your project plan changes. Next week, if the status of your project plan has changed, you can simply refresh your existing OnePager Pro project status report. OnePager Pro will instantaneously redraw your status report, and will update any color-coding that needs to change based on any changes in status. Here's how:
Save your OnePager chart by clicking the blue disk icon in the upper left-hand corner of the screen.
Make the necessary changes to Microsoft Project.
Launch OnePager Pro from your desktop again, but from the Start screen choose Update this time, and select your saved chart. Then create a New Snapshot. In this case, our second snapshot is on 11/20/2020 instead of 11/13/2020.

Click the New button to refresh your data from Microsoft Project, and to quickly refresh your color-coded project status report:

Notice that as the status changes in Microsoft Project, OnePager Pro automatically re-formats each task and milestone on the chart based on your conditional formatting rules. Tasks that were previously yellow are now red because their status has changed. This is the quickest and easiest way to create a project status report, because it's 100% dynamic and data-driven.
OnePager makes it easy to create a color-coded project status report in minutes. If you are already tracking a project plan in Microsoft Project, you already have all the data you need. Simply pull your plan into OnePager Pro, and you will have a color-coded project status report quickly and easily.
Get started today by downloading a free trial.
15-Day
Free Trial