Timelines in OnePager Pro are easy to create, easy to maintain, and easy to understand: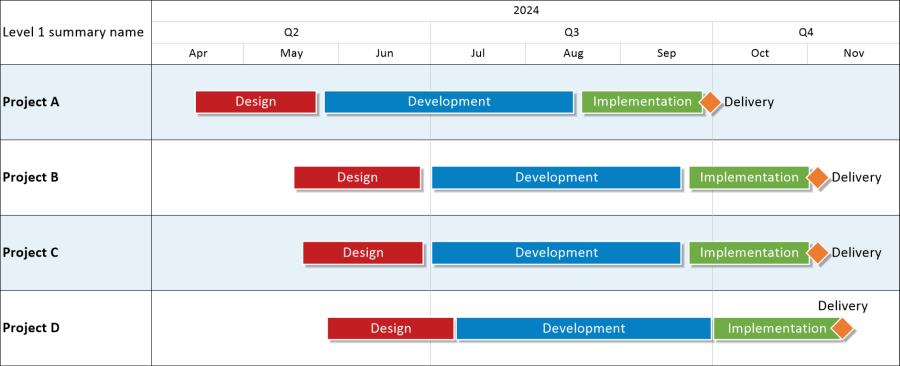 Executives like this format because it aligns phases sequentially in the same row, instead of staggering them in a waterfall format like a traditional Gantt chart. We'll walk you through a step-by-step approach to creating reports in this format, starting with a simple Microsoft Project plan:
This plan contains four subprojects, each with the same three phases. In this example, we're using a single Microsoft Project file, but you can use an integrated master schedule (IMS) if you want to link multiple MS Project plans together.
To get started, insert a flag column (we used "Flag 20" below) to select the phases that you want to import into OnePager Pro. You don't need to select the project summary tasks in this example.

To start building your timeline in OnePager Pro, double-click the OnePager Pro icon on your desktop. When the Start screen appears, click the NEW button.

Choose your Microsoft Project plan as the source file for your OnePager timeline by going to Select > BROWSE FILES:

After you've chosen your Microsoft Project file, we need to pick a template that is going to give us a clean timeline layout. In the Starting Template section of the import wizard, go to Change > BROWSE FILES and pick any template that has the word "Timeline" in it. In this case, because all of our projects are in a single MPP file, we can use the "Single Project Timeline". If your projects are in multiple MPP files, use the "Multi-Project Timeline" template instead:

Give your timeline a name, and then click the Create new Chart button. You'll start out with a nice timeline like this:

Each project has its own swimlane, and the phases of each project are lined up in their own timeline from left-to-right.

The final step is to color-code the timeline. Initially, OnePager has assigned colors to the timeline by project, where each project gets its own color. This looks pretty good, but we can change it so that the same phases across multiple projects all have the same color. OnePager's conditional formatting tool is the fastest way to do this. Go back to Home > Chart Properties > Task Bars and click the Manage Rules button at the bottom. We'll set up four simple conditional formatting rules to assign colors by phase name:

Clicking OK again, you'll see a color-coded timeline that makes it very easy to distinguish one phase from another:

We can make the timeline even cleaner by eliminating the repeating task names in the body of the timeline, and having the phases appear in a legend instead:
Build your own multi-phased project timeline today by downloading a free trial.
15-Day
Free Trial
Related Articles
Multi-Phase Project Timeline from Smartsheet
Multi-Phase Project Timeline from Primavera P6
Multi-Phase Project Timeline from Excel