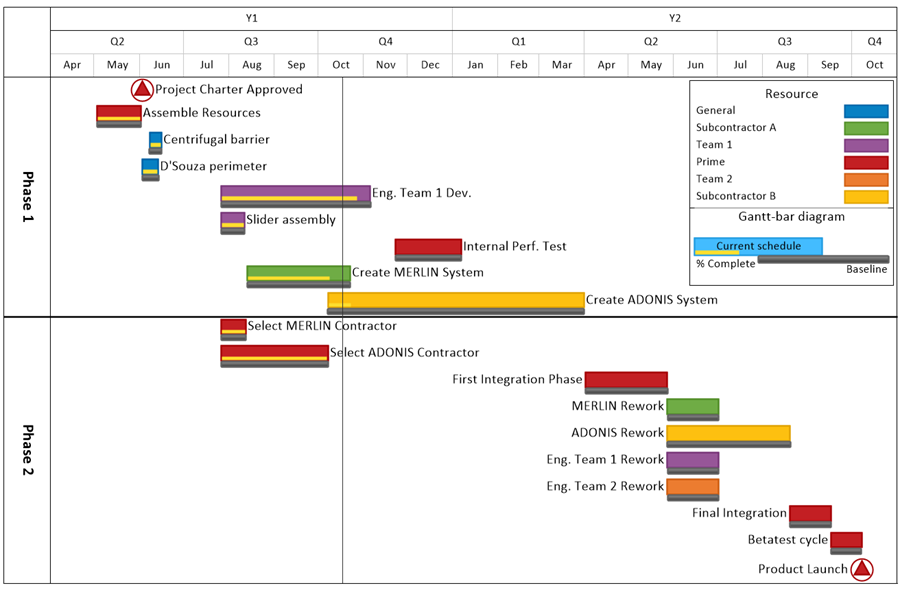 With OnePager Express, you can make clear and colorful timeline views that focus on your project's phases and resources.
OnePager Express is presentation software for Microsoft Excel. OnePager takes your Excel schedule and creates a timeline perfect for executive, team, and client presentations. Download a free trial to get started:
Start by opening your Microsoft Excel file.
Timelines are best when kept simple. If you have a long schedule, use a filter column like the "Show it" column below to select the tasks that you want to present in your timeline view:
The Excel spreadsheet above also contains phase (highlighted) and resource information about your project.
Double-click the OnePager Express icon on your desktop. (Don't have OnePager Express yet? You can download a 15-day trial to see how it works.) From the Start screen that pops up, choose New.

Choose your Excel spreadsheet as the source file for your project timeline.

OnePager Express will display a wizard, which lets you name your timeline view, choose your filter column, and specify a snapshot or status date for your presentation:

When you click the Next button, you'll be taken to the second page of the wizard, which lets you choose which Excel columns you want to import:
We've set up OnePager Express to have color dynamically based on resource assignments.
Clicking on the Edit current template button lets you configure how your timeline will be grouped and sorted. In this case, we want to group and sort by the project's different phases:
Click Use to return to the import wizard.
Now just click Create new chart. You will create a timeline that is organized by phase, and color-coded by resources:

To get this chart into your PowerPoint presentation, just click on the Copy button on the Home tab of the OnePager Express ribbon, and paste the chart into your PowerPoint presentation. It's that simple.
When you create a timeline view from Microsoft Excel using OnePager Express, you can always be sure that your schedule is based on your exact data from your Microsoft Excel. OnePager Express NEVER changes your underlying Excel data.
Customizable
You can customize the format of your timeline view for different audiences. OnePager Express remembers your customizations as a template, helping you create other timelines in the future. Customizing can take several forms:
Group, sort and color-code tasks and milestones by any field in Microsoft Excel (phase, resources, etc.)
Generate a chart legend that makes sense for your audience
Reposition tasks or milestones, swimlanes, and rows anywhere on the page with a drag and drop interface.
Visually display important project data like percent complete and baseline start and finish dates
Change task labels without corrupting your original Microsoft Excel file
Customize the time-axis to show all or part of a project and to show any time units (weeks, months, etc.)
Refresh your timeline view with updated dates and task completion percentages any time your Microsoft Excel schedule file changes.
OnePager Express makes it easy to create timeline view from Microsoft Excel 2003, 2007, 2010, 2013, 2016, 2019 and Office 365. Using OnePager Express will give you dynamic, creative, and focused project schedules with the click of a button, and eliminates the need to redraw your schedules by hand every time your project changes.
Get started today by downloading a free trial or attending one of our demonstration webinars.
15-Day
Free Trial