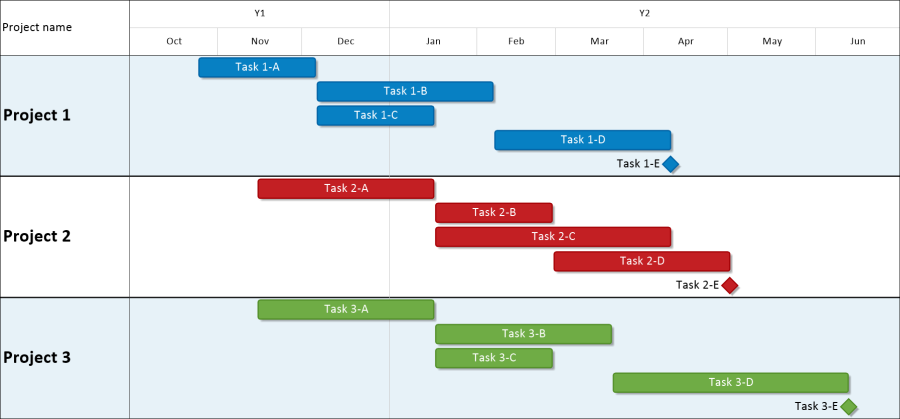 OnePager Pro is the Gantt chart tool of choice for project managers who already use Microsoft Project. OnePager builds multi-project Gantt charts from Microsoft Project, Project Server, or Project Online in just a few clicks. Don't have OnePager Pro yet? Download a 15-day trial and follow along:
Start by opening up one of the Microsoft Project plans that you want to include in your Gantt chart. If you want to show a high-level Gantt chart, use a flag field like "Flag20" to indicate which tasks and milestones you want to include:

Go to Microsoft Project's Add-Ins tab and click the OnePager Pro button:

Click NEW to build a new Gantt chart. When the import wizard appears, click the Add/Remove button to add more project plans to your Gantt chart:


In this example, we'll import a total of three plans from Microsoft Project, but there is no limit to the number of projects that you can include in your Gantt chart.

On the same screen, there is a Starting Template section. Click the Change button and pick the "Multi-Project Gantt Chart - Detailed" template. This template is optimized for multi-project reporting.
With all three project plans imported, click Create new Chart to build your multi-project Gantt chart. You'll get something like this:

OnePager Pro is the easiest way to create a multi-project Gantt chart from Microsoft Project. From here, you can customize colors, layouts and more, until your Gantt chart is exactly the way you want it.
Get started today by downloading a free trial.
15-Day
Free Trial
Related Articles
Multi-Project Gantt Chart from Smartsheet
Multi-Project Gantt Chart from Primavera P6
Multi-Project Gantt Chart in Excel