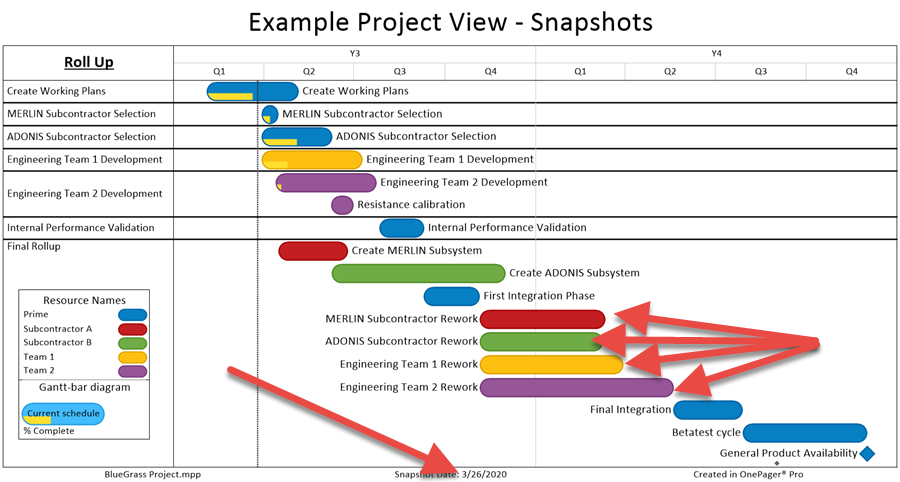 Creating the first and subsequent snapshots is easy once you have prepared your Microsoft Project file and installed OnePager Pro. Don't have OnePager Pro yet? You can download a 15-day free trial to see how it works.
This article will show you how to create the first snapshot of your project and then create subsequent snapshots as you periodically update the status of your project over time. Since OnePager outputs can be used in schedule conversation presentations, you'll find these snapshots consistent and focused on the relevant issues facing your project.
To begin, Launch Microsoft Project and open your project plan.
Note the "Flag20" column in the Microsoft Project screenshot above. This field is used by OnePager to control which task/milestone rows from your Microsoft Project file are input to OnePager Pro. You can use any flag column, but in this example, we use "Flag 20".
Now launch OnePager Pro by double-clicking the OnePager Pro icon on your desktop. From the Start screen that pops up, choose New. Choose your Microsoft Project plan as the source file for your OnePager Gantt chart, and OnePager will provide you with the OnePager Choices Form shown below. You have many options -- but for this example, we are creating our first Chart and Snapshot. So select the buttons shown below:
Two things: First, when creating a new chart (this is how we refer to a OnePager document), OnePager Pro asks you to name the chart. Second, OnePager gives you the option to set the snapshot date as shown in the bottom portion of the OnePager Choices Form. The Snapshot date is simply meant to represent the date in time to which the data being presented is accurate. Clicking on the "Create new chart" button will result in a chart that looks something like the below image, which you would then present to the audience in your recurring meeting. We've magnified and drawn a highlighted border around the snapshot date that was set to display in the footer. If you're not fond of the view, OnePager gives you plenty of ways to customize your chart...we're not going to demonstrate this here, but if you want to tinker, click the Chart Properties button. When you're finished customizing your Gantt chart, save it by clicking the blue disk icon in the top left corner of the screen.

Naturally, change is going to be occurring in your project plan data as you continue to go about the business of managing your initiative. When it comes to the end of the next reporting period for your project, say a month in the future, you can create a second snapshot that shows the status of your project on that new date and yet will retain the formatting you applied in OnePager. Simply update your Microsoft Project file as you would normally with the month's activities. When finished, launch OnePager Pro again. This time, from the Start screen, choose Update and select your saved chart. OnePager Pro will provide the OnePager Pro Choices Form for you to create your updated project snapshot.
This time around, you want to specify a new snapshot (status) date one month later. Once you do this, a second snapshot of your project will be created which will reflect the change that has occurred since you created your last snapshot. Our example looks like this:
If you compare the first snapshot to the second snapshot, you will notice that some of the tasks and milestones have shifted on the page, based on the changes made in Microsoft Project, and a new snapshot date is represented in the footer. The blue vertical line (time cursor) will also move from left to right based on the snapshot date you specify as well.
If you look in your View tab you will notice that there is a blue Previous button that is now illuminated, which will allow you, if clicked, to go back to the original snapshot. You can also click on the List All button to see all the snapshots you've accumulated, which may become useful as your volume of snapshots increases.

Now continue to follow the steps above through the rest of the project's lifecycle. Whenever you need the updated view...each month, in this case, a new snapshot will be created and can be used in your status presentations to the project's sponsor, team members, and customers. You can create snapshots weekly, monthly, every day, or even every second, and there is no limit to the number of snapshots you can provide your project stakeholders. The snapshot ability will also allow you to store snapshot-specific information within them, such as text boxes, comments, curtains, etc. that will add more clarity to each snapshot, just in case you need to go back and use them to tell a story of how the project evolved.
Customizable
When you create a project presentation from Microsoft Project using OnePager Pro, you can be assured that your schedule is based on data in your original project plan. You can easily customize the look and feel of your presentation:
Use conditional formatting to allow your data to drive coloring, shapes, fills, shape size, and more!
Group, sort tasks by any field in Microsoft Project (resources, phase, etc.).
Generate a project legend that makes it easy for your audience to understand your schedule.
Reposition tasks or milestones anywhere on the page with a drag and drop interface.
Visually display important project data like percent complete, baselines, and critical path.
Change task labels without corrupting your original Microsoft Project file.
Customize the time axis to show all or part of a project, and to show any time unit (quarters, fiscal years, etc.)
Refresh your project plan with updated dates and task completion percentages any time your Microsoft Project plan changes.
OnePager Pro also allows you to create multiple presentations from the same Microsoft Project file. For example, if you have one presentation to an executive team, a second presentation to an engineering team, and a third presentation to a customer, you can use different Microsoft Project flag columns to select different portions of your project plan. You can use these flags to create completely separate presentations so that the people to whom you are presenting always see the correct amount of relevant project information--not too much and not too little.
Using OnePager Pro will allow you to create dynamic, informative project presentations with the click of a button, and it eliminates the need to rebuild your presentation by hand every time your project schedule changes.
Get started today by downloading a free trial or attending one of our demonstration webinars.
15-Day
Free Trial