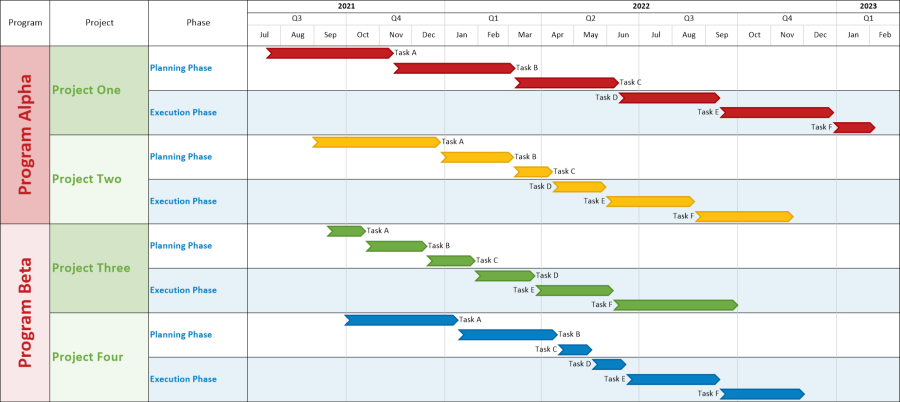 OnePager Express can import your Excel project plan and create a Gantt chart or project timeline with parent swimlanes and child swimlanes, sometimes called sub-swimlanes.
Simple Instructions
These instructions show you how to create parent and child swimlanes if you don't already have a project plan build in Excel.
Start by downloading these three sample files to your downloads folder or to your desktop. The Excel file contains the project plan itself, and the *.tat file is the OnePager template that will drive the formatting of the swimlanes that you're about to create.

Parent and Child Swimlanes.xlsx (Excel Project Plan)


Parent and Child Swimlanes.tat (OnePager Template)
Open the Excel file. Here, we have a list of tasks with start and finish dates. Each task is then assigned to a phase, each phase is assigned to a project, and each project is assigned to a program. We'll eventually create three levels of swimlanes based on project, program, and phase:

Go to the Add-Ins tab in Excel and hit the OnePager Express button:

On the Start screen, click NEW to begin building a new Gantt chart with parent swimlanes and child swimlanes:

Next, in the Starting Template section, and go to Change > BROWSE FILES. Browse to your desktop or downloads folder again and select the Parent and Child Swimlanes.tat template that you downloaded in step #1:

With your Excel plan loaded and your OnePager template selected, click Next and then Create new chart. OnePager will import the tasks from Excel, along with the associated phases, projects, and programs. In a matter of just a few seconds, you'll get a Gantt chart with parent swimlanes and child swimlanes based on those different levels:
Now that you've done this, you can go back to Excel and adjust the plan to match the dates, tasks, and phases of your own projects and programs. Once you've done this, follow the same steps again with your custom Excel file, and you'll get a similar result that's based on your own real-world project.
15-Day
Free Trial