OnePager displays dependencies, using predecessor and successor logic from Planisware, like this: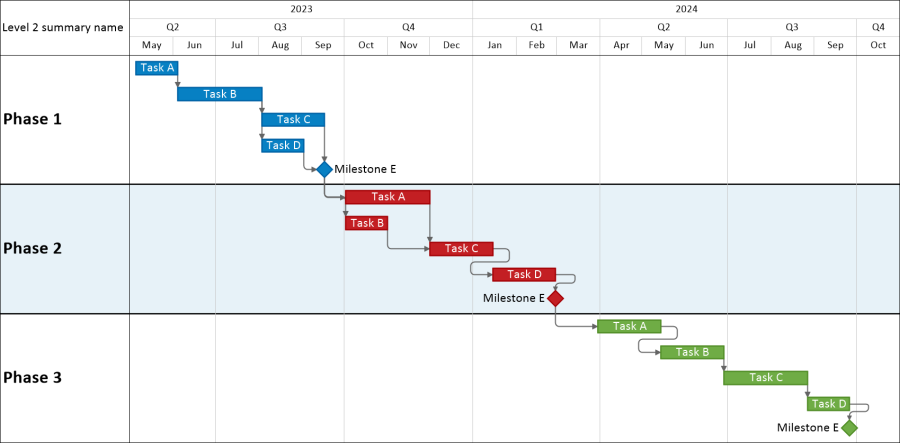 15-Day
Free Trial

If you don't already have OnePager, click the button above to download a free trial. Then, follow these instructions to get started:
Begin by opening your project in Planisware Enterprise. This project has predecessor and successor activities that we want to display as dependencies the Gantt chart:

Most Planisware users prefer to pull a specific set of activities into their OnePager charts, instead of the entire project. To do this, insert a Boolean attribute called Send to OnePager? and check the box next to any activities that you would like to include:

Save your Planisware project, go to your desktop or Windows Start menu, and launch OnePager:

When the OnePager start screen appears, click on New to start building a new Gantt chart from Planisware Enterprise:

On the import wizard, choose Select > BROWSE Planisware Enterprise:

If this is your first time using OnePager with Planisware, OnePager will prompt you to log into your Planisware Enterprise account.

Once connected to Planisware, select the project that you want to import and click OK:

With your project ready for import from Planisware, ensure that you are filtering based on the Send to OnePager? attribute that you created earlier:

Now, click Create New Chart. OnePager will quickly import the selected activities from Planisware Enterprise to create an initial Gantt chart, like this. In the remaining steps, we'll show you how to modify the Gantt chart to display predecessor information from Planisware:

To import predecessors and successors from Planisware, go to Home > Chart Properties > Task Links and check the Import and show links box, and then click OK:

OnePager will import the dependency logic from Planisware Enterprise and display predecessor and successor relationships, like this:

In cases where dependencies get in the way of neighboring tasks, you can use your mouse to adjust the path of the link for a cleaner look.
Get started today by downloading a free trial.
15-Day
Free Trial