OnePager imports selected activities from Planisware Enterprise and creates high-level Gantt charts, like this: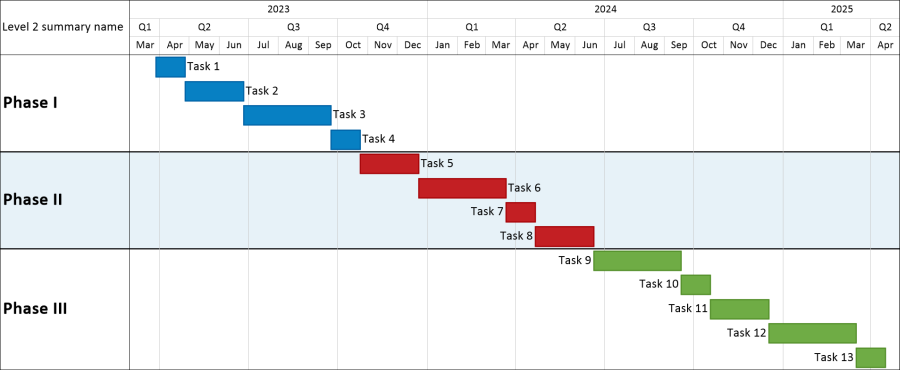 15-Day
Free Trial

If you don't already have OnePager, click the button above to download a free trial. Then, follow these instructions to get started:
In our example project from Planisware, we have three phases and several activities underneath each phase:

In this example, we want to import the child activities, but not the summary tasks from the WBS. To do this, we can insert an attribute called Send to OnePager? into the project:

Check the box next to any Planisware activities that you'd like to include in your Gantt chart. In this example, we're only selecting child activities, but you can also select summary activities from the WBS if you'd like. When you've finished selecting activities in Planisware, save your project before continuing.

Launch OnePager using either the desktop icon or Windows Start menu:

On the OnePager start screen, choose New to start building a new Planisware Gantt chart:

From the import wizard, go to Select > BROWSE Planisware Enterprise:

If this is your first time using OnePager with Planisware, OnePager will prompt you to log into your Planisware Enterprise account.

OnePager will display a list of all of the projects available in your Planisware account. Select one and click OK:

OnePager can also import multiple Planisware projects simultaneously: simply hold down the Ctrl key while selecting.

If not selected already, choose the Send to OnePager? attribute as your activity filter:

To finish the import, click Create New Chart:
Get started today by downloading a free trial.
15-Day
Free Trial