When OnePager imports a project from Primavera P6, it can group activities into swimlanes based on the resource assignment, which is especially useful when multiple resources are assigned to the same activity: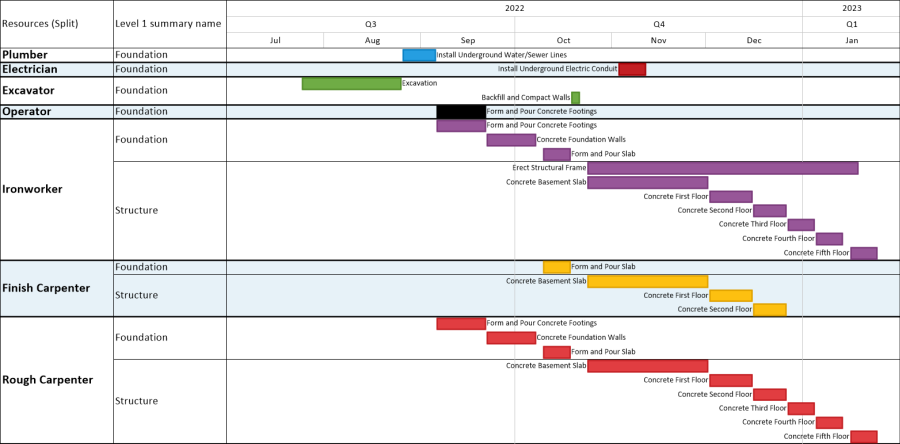 15-Day
Free Trial

If you don't already have OnePager, click the button above to download a free trial. Then, follow these instructions to get started:
Let's begin with a Primavera P6 project. Notice that many of the activities have multiple resources assigned:

We can create a resource report that looks at all of the activities from Primavera P6, but in this case, we'll filter the schedule so that only the Foundation and Structure phases are imported:

OnePager can filter based on a Primavera P6 user-defined field. In this example, we have created a UDF called OnePager and placed a "Y" next to activities that we want to include in the final report. You can create a UDF in Primavera P6 by going to Enterprise > User Defined Fields

Now, we can export the P6 schedule to either XML or XER format, both of which can be read by OnePager. Go to File > Export and follow the steps to export the project:

Now, launch OnePager from the desktop icon:

When the OnePager start screen appears, click on New to begin creating a new resource report from Primavera P6:

When the import wizard appears, choose Select > BROWSE Primavera P6 Files:

Select the Primavera P6 project, and import it into OnePager.

On the import wizard, go to Change > BROWSE FILES and select the template called Multi-Resource Allocation View for Primavera. This template is designed so that any activity with multiple resources assigned can appear multiple times in each chart--once for each resource--even if it only appears once in Primavera P6.

This is also where you can select the OnePager user defined field to filter your Primavera P6 activites.

Click Create New Chart, and OnePager will import the selected activities from Primavera P6 to create a resource report, like this:

In this report, each resource gets its own swimlane, so any activities assigned to a particular resource in Primavera P6 will be grouped together. In addition, for any activity where more than one resource is assigned, OnePager will replicate the activity so that each resource can have their own copy of the task in their own swimlane. For example, the "Form and Pour Concrete Footings" activity is assigned to the Operator, the Ironworker, and the Rough Carpenter in Primavera P6, so you will see three copies of that activity in OnePager so that the same activity can appear simultaneously in three separate swimlanes.

We can add a second level of swimlanes so that each resource's work is broken out by project phase, which is tied to the Primavera P6 WBS. To do this, go to Home > Chart Properties > Rows/Swimlanes. Click on the Left #2 swimlane tab and point it to the Level 1 Summary Name which is the top level of the WBS in Primavera P6:

Click OK, and OnePager will subdivide each resource's swimlane so that their tasks are also broken out by the phase of the overall project back in Primavera P6:

For example, if you locate the Ironworker swimlane, you'll see that it is sub-divided into a secondary swimlane for the Foundation phase and the Structure phase of the project.
Build your own resource report from Primavera P6 today by downloading a free trial.
15-Day
Free Trial