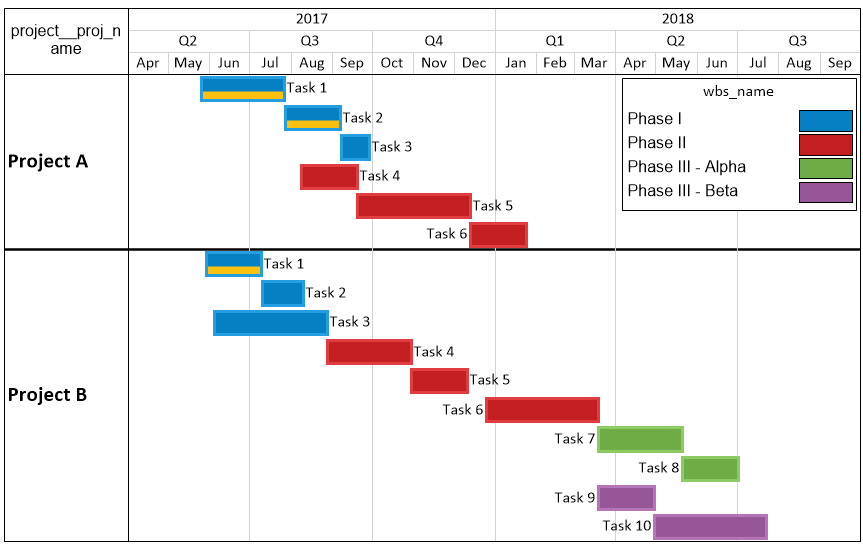 15-Day
Free Trial

OnePager Express imports your Primavera P6 schedules to create full-color, Powerpoint-ready Gantt charts and project timelines in a matter of minutes. If you don't already have OnePager Express, you can download a 15-day free trial to see how it works. Here's how to get started:
Open your Primavera P6 project schedules. In the example below, we'll use both "Project A" and "Project B" to build our Gantt chart:

Export each of your Primavera P6 project schedules to Excel. This will allow you to import it into OnePager Express in just a minute:

When you export from Primavera P6 to Excel, you have a lot of options. OnePager Express is flexible and can work with as much or as little schedule information as you'd like. For starters, we recommend exporting "Activity ID," "Activity Name," "Start" and "Finish," but in the example below, you'll see that you can export more schedule information if you want to include it in your OnePager Express Gantt chart.


In this case, we created a "OnePager" template to use with future Primavera P6 exports.

Once you've completed your export to Excel, you will have a spreadsheet for each project schedule. They should look something like this:


Primavera P6 recommends deleting the second row from the spreadsheet, so we'll do that for each of our two project schedules.

Next, double-click the OnePager Express icon on your desktop. From the Start screen that pops up, choose New. Choose your two Excel spreadsheets as the source files for your Gantt chart:


Click Next to continue.

The next page of the wizard will let you choose which fields from Primavera P6 you would like to use in your Gantt chart:

Finally, click the Create new Chart button, and OnePager Express will create a dynamic project report based on the data you exported from Primavera P6:


From here, you can copy and paste your Gantt chart into PowerPoint, or make edits to the layout of your report. You can also update your report to reflect changes that take place in your Primavera P6 project over time.
OnePager Express is the easiest way to summarize or present a Primavera P6 project. Because OnePager Express is a data-driven application, there are endless possibilities as to the types of charts and reports you can create from your Primavera P6 project plan.
Get started today by downloading a free trial.
15-Day
Free Trial