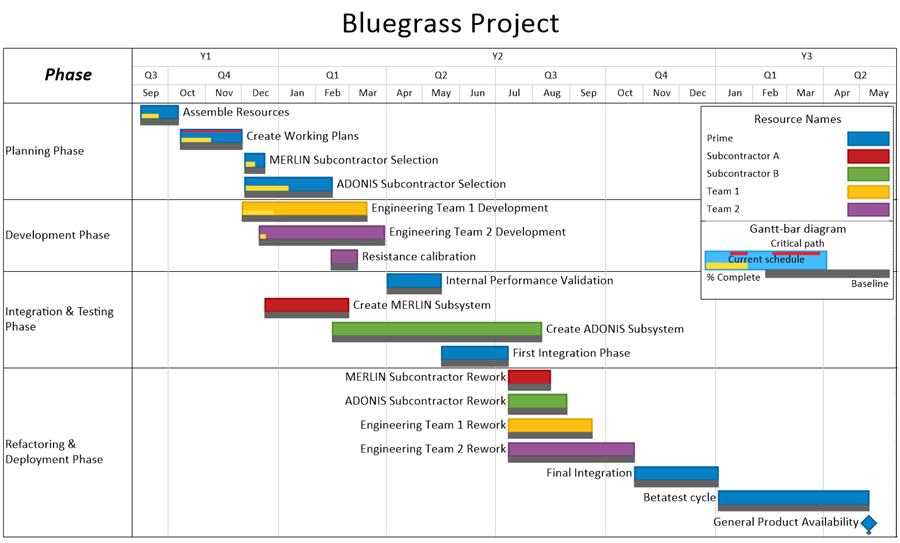 This is easy to do with OnePager Pro, timeline software for Microsoft Project 2003 that lets users build dynamic project schedule presentations with the click of a button. Here's how:
Start by opening any Microsoft Project file.
The key to building a professional project schedule is to only show tasks and milestones that matter to your audience. OnePager Pro makes this easy. Just insert any flag column into your Microsoft Project plan (Flag 20 in this example) and place a "Yes" or a "No" to indicate which tasks and milestones you want to include in your timeline view:

Double-click the OnePager Pro icon on your desktop. (Don't have OnePager Pro yet? You can download a 15-day free trial to see how it works.) From the Start screen that appears, choose New.

Choose your Microsoft Project plan as the source file for your OnePager Gantt chart.

Next, when the OnePager Pro import wizard launches, you'll want to name your Chart. In this example, we'll call it "Bluegrass Project".
Now, you can specify which Microsoft Project flag field you want to use to filter your subproject tasks and milestones. Click on Select tasks with 'YES' in column and then choose a flag field (in this example, Flag 20) as shown below:

Specify a Snapshot (status) date for your project (today's date is fine) and click Create new chart. OnePager will take your selected tasks and milestones and turn them into Gantt Art - a pleasing project timeline view that shows the schedule only for the tasks you selected:

You're done! You can cut and paste your OnePager Pro chart into a PowerPoint presentation or into an e-mail, and be ready to present your project in a matter of seconds.
When you create a timeline view from Microsoft Project 2003 using OnePager Pro, you can always rest assured that your schedule is based on data in your original project plan.
Customizable
You can easily customize the look and feel of your project plan:
Use conditional formatting to allow your data to drive coloring, shapes, fills, shape size, and more!
Group, sort tasks by any field in Microsoft Project (resources, phase, etc.).
Generate a project legend that makes it easy for your audience to understand your schedule.
Reposition tasks or milestones anywhere on the page with a drag and drop interface.
Visually display important project data like percent complete, baselines, and critical path.
Change task labels without corrupting your original Microsoft Project file.
Customize the time axis to show all or part of a project, and to show any time unit (quarters, fiscal years, etc.)
Refresh your project plan with updated dates and task completion percentages any time your Microsoft Project plan changes.
OnePager Pro makes it easy to create timeline views in Microsoft Project 2003, and is compatible with Project 2010, so if you do eventually upgrade, you can keep using OnePager Pro to create more informative timeline views. Using OnePager Pro will give you dynamic, informative project schedules with the click of a button, and eliminates the need to redraw your schedule by hand every time your project changes.
Get started today by downloading a free trial or attending one of our demonstration webinars.
15-Day
Free Trial