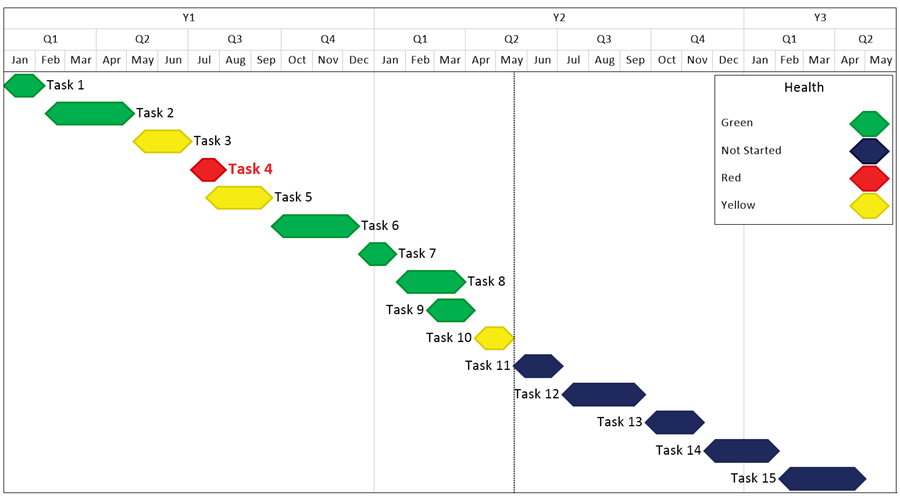 With OnePager Express, you can show tasks along a timeline, and color-code them based on health. It's easy to do and only takes minutes once you've set up your project plan in Excel. Don't have OnePager Express? Download a free 15-day trial and follow along with this tutorial:
Open your Excel project schedule. In the example below, we use a "Health" column for the health of each task:

Next, just double-click the OnePager Express icon on your desktop. From the Start screen that pops up choose New, and select your Excel spreadsheet as the source file for your project health report. The wizard below will appear:

Click the Next > button to choose which columns from your Excel project plan you want to import. This is also where you can tell OnePager Express to color-code by the health of each task:

Click on the Create new chart button, and OnePager Express will build the following timeline view, complete with color-coded health indicators for each task:
OnePager Express can quickly and efficiently create an understandable, focused, and colorful timeline chart for presentation to stakeholders, team members, or customers.
With the project report (timeline view) produced, just click on the Copy button on the OnePager Express toolbar, and paste the view into your PowerPoint presentation to share it with others.
OnePager Express makes it easy to create timeline views from Microsoft Excel. Using OnePager Express will give you dynamic, creative, and focused project schedules with the click of a button, while eliminating the need to redraw your schedules by hand every time your project changes.
Get started today by downloading a free trial or attending one of our demonstration webinars.
15-Day
Free Trial