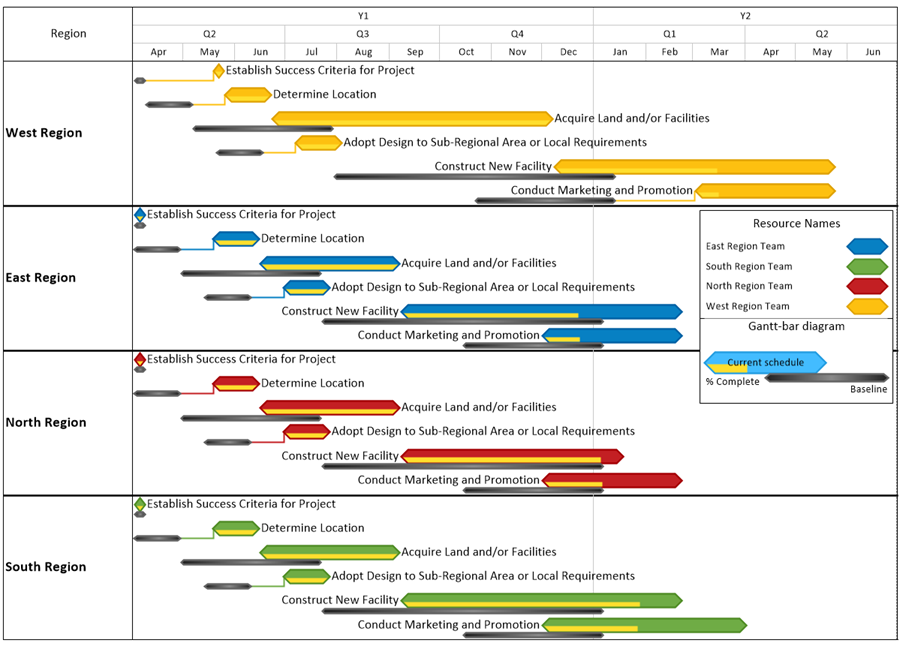 In fact, it usually take 4-6 hours to prepare a schedule chart for presentation in PowerPoint or Visio. If you make these presentations every week, this time can really add up.
OnePager Pro is presentation software for Microsoft Project that makes it easier to create project reports from your actual project plan. It significantly reduces the creation and update time, removes the potential for errors, and provides a complete history of your project as it progresses. You can save time preparing for a presentation, increase confidence in your reports, and communicate more effectively.
If you don't already have OnePager Pro, you can download a 15-day free trial to see how it works. Here's an example:
Suppose you have a Microsoft Project file that looks like this:
The project manager wants to focus on only a portion of the project in his presentation, not the entire schedule.
OnePager Pro filters the schedule quickly and easily after the project manager uses a flag column to choose which tasks should be included in the presentation. Then, the project manager can launch the OnePager Pro application from their desktop to get a picture of the project that looks like this:
It only takes seconds to get a simple Gantt chart presentation in OnePager Pro. Using the editing tools on the OnePager Pro tool bar shown above, it is easy to tailor the project presentation so that your the audience is focused on what the project manager sees as most important.
Once the project presentation is created and edited, it can be shared in PowerPoint. First, click the Copy button on the OnePager Pro tool bar as illustrated below:

Next, just paste the clipboard item into your PowerPoint Presentation slide, save it, print it, or send it off and you are ready to present.

This article shows you how project presentation software like OnePager Pro can efficiently and effectively allow you to create informative, creative, and concise professional-quality Gantt charts to support project schedule presentations and conversations.
When you create a project presentation from Microsoft Project using OnePager Pro, you can be assured that your schedule is based on data in your original project plan.
Customizable
You can easily customize the look and feel of your presentation:
Conditionally format (color, shape, etc.) your presentation dynamically based on your Microsoft Project plan.
Generate a project legend that makes it easy for your audience to understand your schedule.
Reposition tasks or milestones anywhere on the page with a drag and drop interface.
Present important project data like percent complete, deadlines, baselines, and critical path.
Change task labels without corrupting your original Microsoft Project file.
Customize the time axis to show all or part of a project, and to show any time unit (quarters, fiscal years, etc.)
Refresh your presentation with updated dates and task completion percentages any time your Microsoft Project plan changes.
Get started today by downloading a free trial or attending one of our demonstration webinars.
15-Day
Free Trial