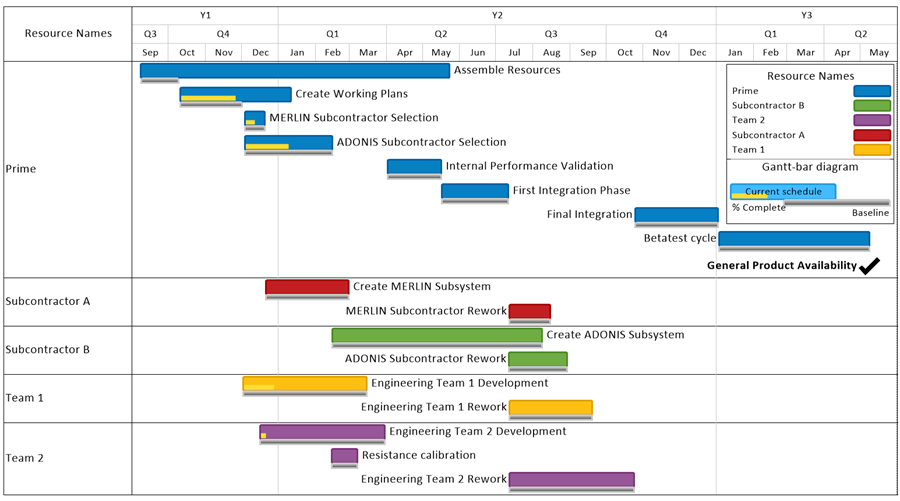 With OnePager Pro, presentation software for Microsoft Project, you can create Gantt chart templates that save you time, and make it easy to standardize project reporting. If you don't already have OnePager Pro, you can download a 15-day free trial to see how it works.
Making a project schedule template is easy, and we'll use OnePager Pro to show you how in the steps below. All you need to do is have your Microsoft Project file ready, follow the steps, and let OnePager Pro build a Gantt chart template that can be used over and over, shared with other people in your organization, and become a PMO standard.
First, we'll make a OnePager Pro Gantt chart from our Microsoft Project file. This is done by inserting a "Flag" field to tell OnePager Pro what information to import and display. The Microsoft Project file with the "Flag" field looks like this:

Now, double-click the OnePager Pro icon on your desktop. From the Start screen, choose New, and choose your Microsoft Project plan as the source file for your OnePager Gantt chart. Now the import wizard will launch. You can name your program schedule chart and set the date of the first snapshot (Snapshot Date). Here's an example:

To create the program schedule chart, simply click the Create new chart button, and OnePager Pro will produce this simple Gantt chart:

The above chart already looks pretty good, but let's say we want to organize the tasks by groups of resources. To do this we go to Home > Chart Properties, and click on the Rows/Swimlanes tab to change the grouping to "Resource Names" as shown below:

Once that is done, the program schedule chart will be transformed to the following:

We now have the Gantt chart the way we want it with the project divided into swimlanes based on Microsoft Project resource assignments.
If you like this resource view and you want other project managers to build similar reports for their projects, you can create a project schedule template and share it with other members of your team so that they can create similar charts quickly and easily. To do this, simply go to Home > Save as Template as shown below:
OnePager Pro will create a new Gantt chart template based on your existing project's layout, and save it in your file system under Documents > OnePager Pro > Templates > English > YOURTEMPLATENAME.tat. (Here, we have named our template Bluegrass.tat.). The template will include all of the styles that you set up in your first Gantt chart and can easily be applied to different project plans to give them a similar look and feel.

Once you've created a project schedule template, you can share it with any other OnePager Pro user by e-mailing it to her. Once your colleague copies the .tat file into her own Templates folder, she can use it to create new chart that have the same basic formatting as yours. She would simply launch OnePager, choose New from the Start screen, find the Starting Template section of the import wizard, choose Change..., then BROWSE FILES..., and find your recently e-mailed project timeline template in her folder.

This article shows you how to create project schedule templates for reuse in future projects, or by other individuals in your organization. Using OnePager Pro to make creative, informative and concise Gantt charts improves project communications during schedule presentations and conversations.
By creating a variety of project timeline templates, you'll have lots of flexibility to customize your Gantt charts for specific audiences.
Using OnePager Pro will allow you to create dynamic, informative project presentations with the click of a button, eliminating the need to rebuild Gantt charts by hand every time your project schedule changes.
Get started today by downloading a free trial or attending one of our demonstration webinars.
15-Day
Free Trial