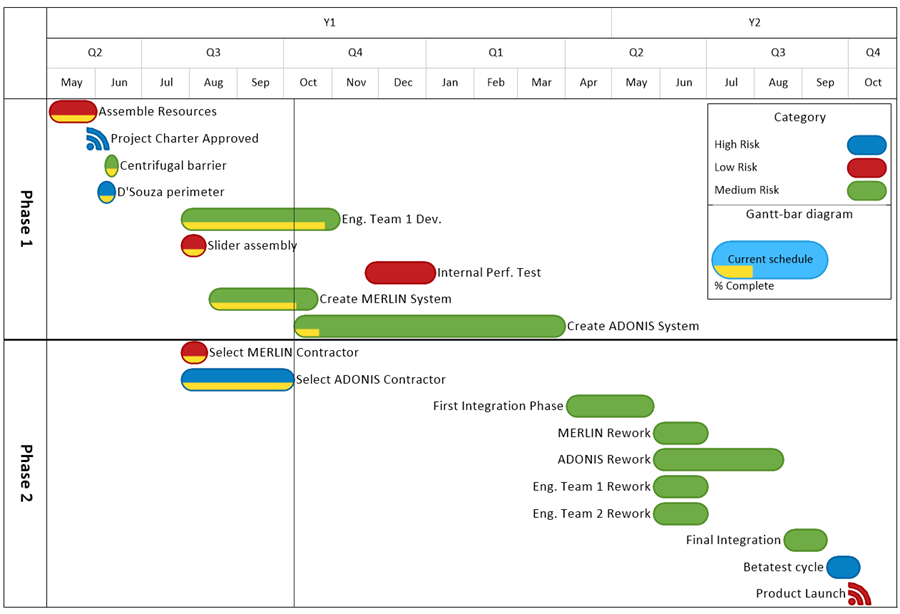 With OnePager Express, you can eliminate the difficulties of trying to create a timeline PowerPoint slide for your project. OnePager Express imports your schedule from Excel and quickly creates presentation-ready timelines and Gantt charts.
If you don't have OnePager Express, download a free trial and follow along. Here's how to make a timeline in Excel for project presentations:
The first step is to determine how much of your Excel schedule you actually want to present on your timeline PowerPoint slide. The highlighted column here places a simple "yes" next to the tasks that should be included in your presentation:

Double-click the OnePager Express icon on your desktop. From the Start screen that appears, choose New, and choose your Excel spreadsheet as the source file for your project timeline. This will start the easy import wizard:
Here, you can name your timeline, specify the Excel column you're using to filter your schedule, and give your timeline a snapshot (or status) date. When you're ready, click the Next button.
The next screen of the wizard lets you pick which Excel columns you want to use in your PowerPoint timeline. For example, you might choose to map the "Start Date" column from your Excel spreadsheet to the start date prompt in the OnePager Express wizard.

Now, just click the Create new chart button and you'll get a PowerPoint-ready timeline, based on the data from your Excel spreadsheet:

You can make some adjustments to your Excel-based timeline if you like. Once you're satisfied, you can copy and paste the chart directly into PowerPoint by clicking on the Copy button shown below:

The next time you need to make a timeline PowerPoint slide for the same project, it's easy to update your chart. OnePager Express remembers the tasks, milestones, and settings from your original timeline, making it easy to make a quick update before your next meeting.
Customizable
OnePager Express is a flexible tool, giving you the ability to:
Change colors, symbols, fonts, and layouts
Automatically group or color-code by resources, project phase, or any other Microsoft Excel data
Show baseline dates and durations
Add comment boxes, text boxes, curtains, or background images
Using OnePager Express will allow you to create easy PowerPoint presentations about your project that are completely based on the data you already have in Excel.
Now you've learned how to make a timeline in Excel and copy it to PowerPoint using OnePager Express. It's fast and easy! To learn more about making a timeline in Excel, you can read some of our other how-to pages. Or get started today by downloading a free trial or attending one of our demonstration webinars.
15-Day
Free Trial