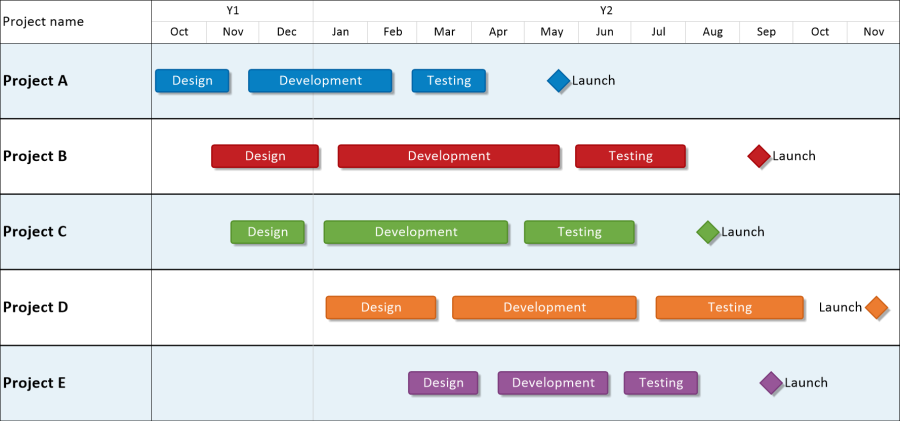 OnePager Pro can take your existing Microsoft Project plan and construct a simple timeline in seconds. Don't have OnePager Pro yet? You can download a 15-day free trial to see how it works.
Take a sample Microsoft Project file like the one shown below that has 8 tasks all ordered from start to finish over the lifecycle of this example project:
Note that OnePager Pro gets its instructions from you on which tasks/milestones to bring in from the "Yes" flags you put into "Flag20" as shown above.
Once we have the Microsoft Project file the way we want it, we need to make the chart with OnePager Pro. Just double-click the OnePager Pro icon on your desktop. Choose New from the Start screen, and choose your Microsoft Project plan as the source file for your OnePager Gantt chart. The following wizard will appear:
We typed in a new chart name, told OnePager Pro to use "Flag20" to control the input of tasks/milestones from Microsoft Project, and set the snapshot (status) date.
By clicking on the Create new chart button we get the following graphic:
Now we have a chart with two sets of tasks for each of our projects but we want them in two swimlanes to get each project into a simple timeline view.
In OnePager, click on the Chart properties button on the Home tab of the ribbon, and go to the Rows and Swimlanes tab to modify it as shown in the figure below:
By using the rows and swimlanes features of OnePager Pro, we can tell OnePager Pro to make two rows, group the rows into swimlanes by the outline level of the WBS (tasks), and control borders and background of the swimlanes. We can also go to the Page Layout tab to resize our chart since it will have fewer rows, and doesn't need as much space on the page. When we click OK the following final project timeline is produced:

You can edit the timeline more from here if you want, or you can copy and paste the timeline into PowerPoint, Outlook, or send it to SharePoint.
This article has discussed how to take a Microsoft Project file with a set of consecutive tasks and represent them with OnePager Pro as a simple timeline.
Using OnePager Pro will allow you to create dynamic, informative project timelines with the click of a button, and it eliminates the need to rebuild your presentation by hand every time your project schedule changes.
Get started today by downloading a free trial or attending one of our demonstration webinars.
15-Day
Free Trial