OnePager Pro is the easiest way to create roadmaps that look at several projects at once. With a direct connection to Microsoft Project, Project Server, and Project Online, OnePager Pro can seamlessly integrate data from several project plans and consolidate everything into a simple timeline view. Sign up for a free trial and try it out today.
Roadmap in Timeline Format
Roadmap in Gantt Chart Format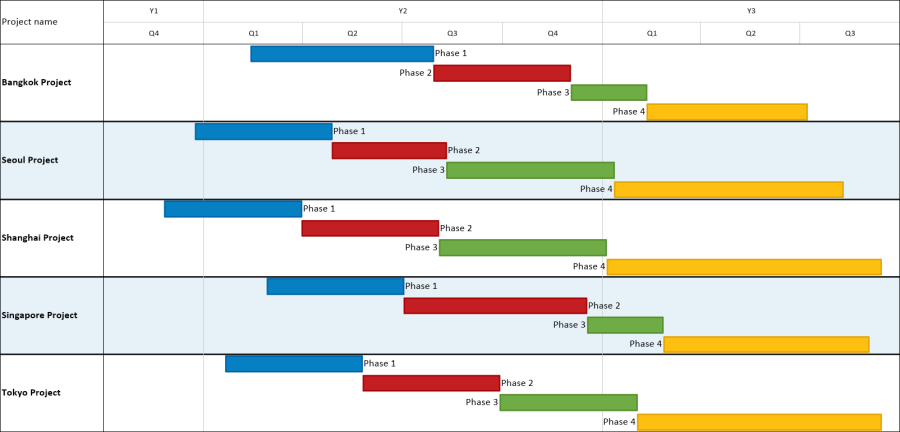 OnePager can build a roadmap of several projects in either a timeline layout or a Gantt chart layout. Simply follow the instructions below and pick the layout that you'd like:
In this example, we will combine five separate Microsoft Project plans into a single roadmap. Let's begin by opening one of those five plans in Microsoft Project:

We want to keep our roadmap high-level, so instead of including all task details, we'll use a flag field (Flag20) to select only phase-level information for each project:

Insert the same Flag20 field into the other four Microsoft Project plans to filter each project the same way.

Launch OnePager by going to Microsoft Project's Add-Ins tab and clicking the OnePager Pro button:

When the start screen appears, click NEW to start building a new roadmap.

On the import wizard, we can tell OnePager to import several projects into the same roadmap. We can add more projects by clicking on Add/Remove at the top of the screen, and then using the Add button to point to any other projects that you want to include in the roadmap:

Once all of the Microsoft Project plans have been selected, you can choose a template to define the layout of your roadmap. Choose a template by clicking on Change > Browse Files. While there are lots of templates available with your trial, we recommend using "Multi-Project Ribbon Chart" for this example:

Finally, click on Create new Project View to import information from all of the Microsoft Project plans and combine them into a roadmap.
15-Day
Free Trial
Adjusting Formatting and Layout
The example above shows you how to quickly combine several Microsoft Project plans into a roadmap. Once you've done this, OnePager makes it easy to make changes to the colors, layout, and other formatting of your roadmap. For example:
If you want to assign a different color to each phase so that the same phase of each project in the roadmap gets the same color, go to Home > Project View Properties > Task Bars and change your Color Code setting to look at the "Name" field, like this:

Once you click OK, OnePager will reassign the colors in your roadmap so that each phase gets a consistent color across multiple projects:

If you want to change your roadmap from a Gantt chart layout to a timeline layout, go back to Home > Project View Properties > Rows/Swimlanes and change your Collection setting to look at "Project Name". This will ensure that all tasks from the same project are lined up left-to-right in the same row:

Click OK again, OnePager will realign all of the tasks in your roadmap so that each project is depicted in a single timeline, like this:

OnePager is the best way to build roadmaps from several projects, since it is tightly integrated with Microsoft Project and gives you complete control over formatting and layout.

Create a roadmap from several projects today by downloading a free trial of OnePager Pro.

15-Day
Free Trial