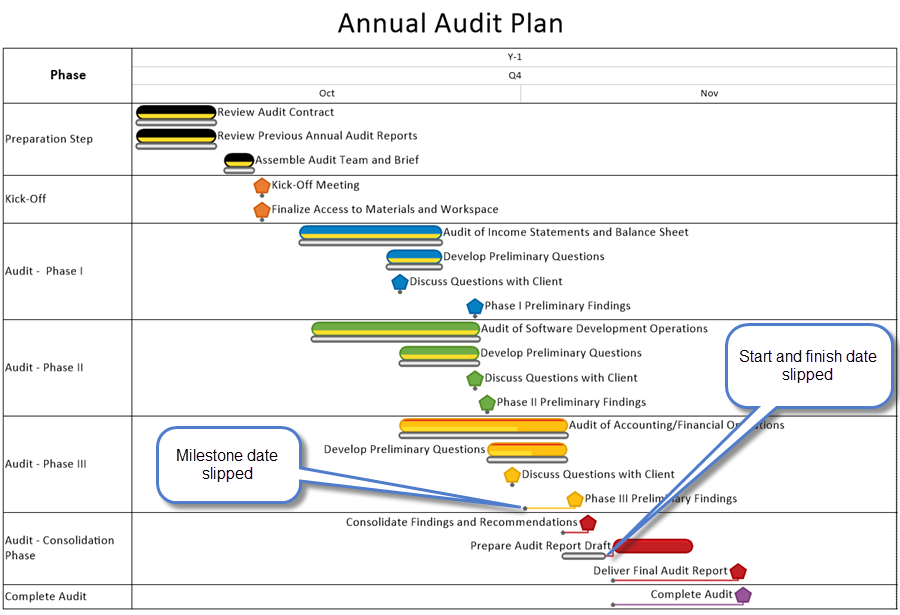 This article shows you how to use OnePager Pro and Microsoft Project to create a set of Gantt charts for project management that show how a schedule changes over time. If you don't already have OnePager Pro, you can download a 15-day free trial to see how it works.
A typical Microsoft Project schedule file might look like the one below:

Now let's make our first OnePager Pro chart. This is done by double-clicking the OnePager Pro icon on our desktop. We click on the New button when the Start screen appears, and choose our Microsoft Project plan as the source file for our project timeline. This brings up the OnePager Pro import wizard shown below:

Enter the project name, the flag field OnePager should use to filter data from Microsoft Project, and the snapshot/status date of the project. Click on the Create new chart button to produce this initial summary report:

Now suppose that we update our Microsoft Project schedule on December 1st with information with revised dates and progress.
Launch OnePager Pro a second time. This time, from the Start screen, select Update, and find the chart to refresh. On the next screen, specify a new snapshot/status date. Click the New button to update your report with a second snapshot.

This creates an updated version of the project schedule, reflecting all of the schedule changes:
A few of the schedule changes have been called out for you. Notice that all of the tasks below the one you revised have slipped, but the baseline markers (shown in dark grey) have stayed put, helping you see exactly far behind schedule the project just became.
You can fast-forward and rewind to different snapshots (versions) of your project schedule by using the navigation buttons on the View tab of OnePager Pro:
This allows you to quickly and easily see schedule changes as they take place to your project plan, almost as if they were happening in real-time.
This article covers how to use OnePager Pro within your established project management best practices to show schedule changes over time. OnePager Pro provides a consistent (from snapshot to snapshot) look and feel to your schedule charts that audiences will appreciate as they review the project from one reporting period to the next.
Using OnePager Pro will allow you to create dynamic, informative project presentations with the click of a button, and it eliminates the need to rebuild your presentation by hand every time your project schedule changes.
Get started today by downloading a free trial or attending one of our demonstration webinars.
15-Day
Free Trial