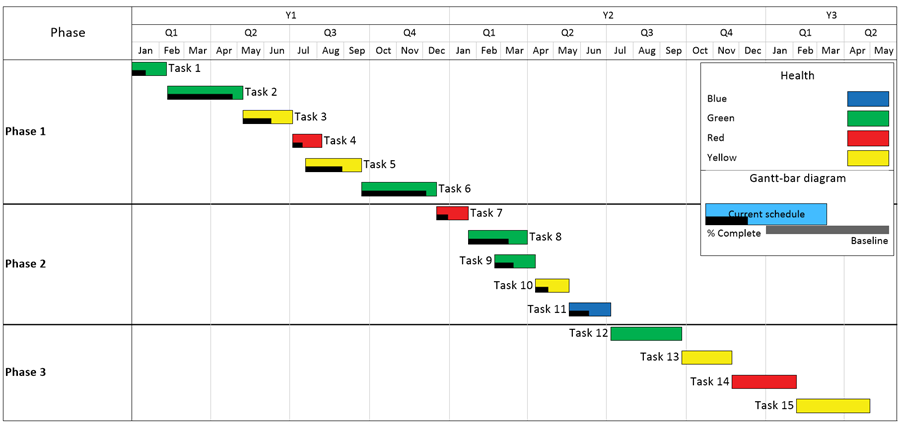 With OnePager Express, you can show tasks from an Excel spreadsheet along a timeline, and use color to represent project and task health with the traditional red, yellow, and green color-codes. Don't have OnePager Express? Download a free 15-day trial and follow along:
In the example below, we use a "Health" column for each task in the spreadsheet:
This is an example, but it will illustrate how the "Health" column can be used to emphasize project and task health in a timeline view versus just looking at the table above.
Double-click the OnePager Express icon on your desktop. From the Start screen that pops up, choose New, and choose your Excel spreadsheet as the source file for your project health report. The wizard below will appear:
In the wizard above, we've noted where you type the project name and set the snapshot (status) date.
Click Next to proceed. You'll now be taken to the second page of the wizard that allows you to map the columns from your Excel spreadsheet into OnePager Express:
This mapping page shows that we want color to be dynamically driven by the "Health" column in the sample MS Excel file.
Now just click the Create new chart button and OnePager Express will build the following timeline view:
The timeline has color-coded each task by the status kept in the Excel spreadsheet. It's also grouped the chart into swimlanes based on the phase, which makes it easier to read.
When you create a timeline view from Microsoft Excel using OnePager Express, your reports are guaranteed to be accurate.
Customizable
You can customize the look and feel of your chart, and OnePager Express will preserve your style changes when you refresh your report with new data from Excel. Here are some of the things that OnePager Express lets you do:
Group, sort and color-code (conditional formatting) tasks and milestones by any field in Microsoft Excel (phase, status, resources, etc.)
Generate a project legend that makes sense for your audience
Reposition tasks or milestones, swimlanes, and rows anywhere on the page with a drag and drop interface.
Visually display important project data like percent complete and baseline start and finish dates
Refresh your timeline any time your Microsoft Excel schedule changes, without having to start over!
Get started today by downloading a free trial or attending one of our demonstration webinars.
15-Day
Free Trial