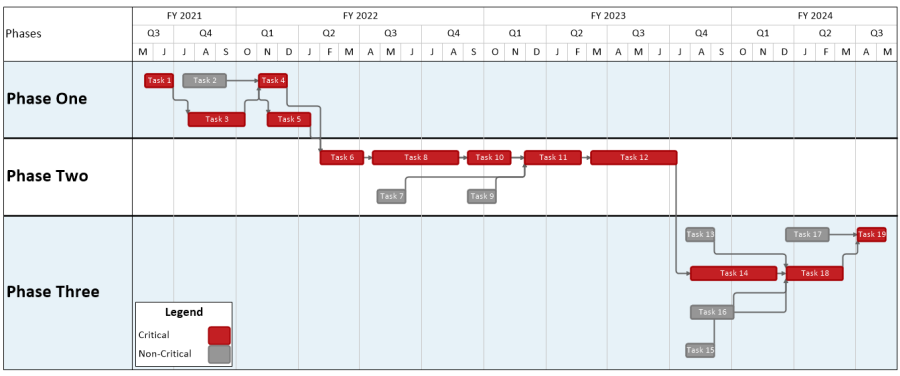 15-Day
Free Trial

OnePager Pro works with Microsoft Project, Project Server, and Project Online to help you create a TSLD. To see how, you can follow either our simple or our more detailed instructions:
Simple Instructions
These instructions are designed for people don't already have a Microsoft Project plan. You can use our example MS Project plan as a starting point and follow these abbreviated steps to create your TSLD in a matter of minutes.
Start by downloading these two sample files to your downloads folder or to your desktop. The Microsoft Project file contains the tasks, milestones and dependencies themselves, and the *.tat file is the OnePager template that will drive the formatting of the TSLD you're about to create.

TSLD.mpp (Microsoft Project Plan)


TSLD Template.tat (OnePager Template)
Open the Microsoft Project file that you just downloaded. From Project's Add-Ins tab, click the OnePager Pro button:

On the Start screen, click NEW to begin building a new TSLD:

On the next screen, locate the Starting Template section, and go to Change > BROWSE FILES. Browse to your desktop or downloads folder and select the TSLD Template.tat that you downloaded in step #1:

With your Microsoft Project file loaded and your OnePager template selected, click Next, and then on the following screen, click Create new chart. OnePager will import the data from your MS Project file and create a TSLD in just a few seconds:
Now that you've done this, you can go back to Microsoft Project and adjust the schedule to match the dates, WBS, and dependencies of your real-world project plan. Once you've done this, follow the same steps again with your updated MPP file, and you'll be well on your way to building your own custom TSLD!
15-Day
Free Trial
Detailed Instructions
These instructions are designed for people who have already built a solid Microsoft Project plan with tasks and dependencies, and just need to import what they already have into OnePager. These instructions also provide more details about customization along the way.
Start with your Microsoft Project plan. Here, we have a simple plan with a WBS, tasks, and some dependencies. The only change that you need to make in Microsoft Project is to use a flag field like Flag20 to select which tasks and milestones that you want to include in the TSLD.

Once your Microsoft Project plan is in good shape, go to the Add-Ins tab, click the OnePager Pro button:

On the Start screen, click NEW to begin building a new TSLD:

On the import wizard, give your TSLD a name, and then click the Create New Chart button:

OnePager will import your selected tasks from Microsoft Project, and initially create a basic Gantt chart like this. In the remaining steps, we'll show you how to convert it from a Gantt Chart to a Time-Scaled Logic Diagram.

The first change is to adjust the layout from a Gantt chart to a timeline so that multiple tasks can be lined up next to each other in the same row. To do this, go to Home > Chart Properties > Rows/Swimlanes. Change the Task Layout to Timeline based on Level 1 Summary Name or whichever level of the WBS is best for your project plan. We'll also choose to Stagger overlapping tasks to improve readability:

Click OK, and you'll instantly see OnePager realign your chart into a series of timelines based on the summary tasks back in Microsoft Project:

Now we need to import the predecessors from Microsoft Project so that we can show the logic between predecessors and successors. To do this, go to Home > Chart Properties > Task Links. Check the box to Show Data-Driven Links:

Click OK, and OnePager will import the existing logic from your Microsoft Project file:

If the addition of dependency logic to your chart made it a little busier than you'd like, don't worry. You can use your mouse to change the path or your links, or to move text to a different location to improve readability.

We can also use conditional formatting to highlight tasks that are on the critical path so that they stand out better. To do this, go to Home > Chart Properties > Task Bars and then click on the Manage Rules button. Here, we've defined a rule that assigns a red color when a task is critical and a gray color when it's not:

Here is the end result after clicking OK and turning on the optional legend to show what the colors mean:
Build a time-scaled logic diagram (TSLD) by downloading a free trial.
15-Day
Free Trial