OnePager builds Gantt charts from Wrike by importing key tasks, and then grouping them into swimlanes, like this: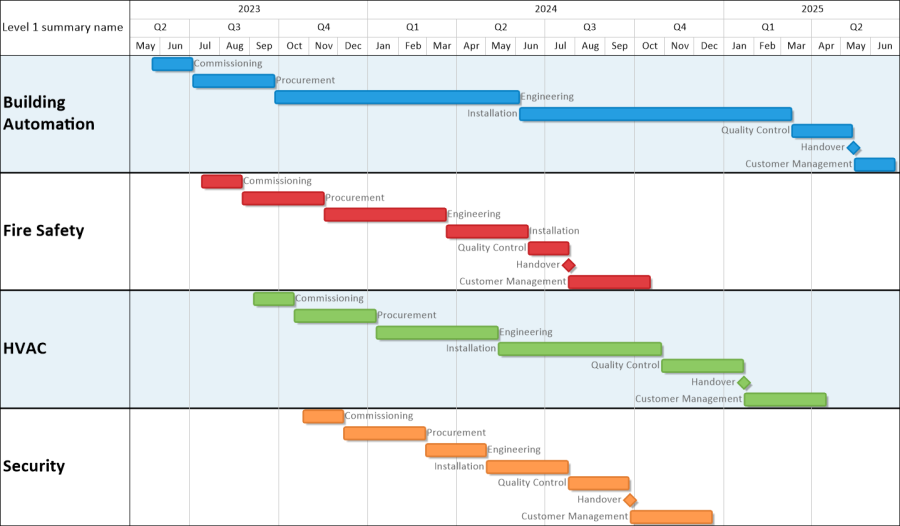 15-Day
Free Trial

If you don't already have OnePager, click the button above to download a free trial. Then, follow these instructions to get started:
Start with your project in Wrike and switch to the Gantt Chart view. This example building automation project is separated four different phases, with subtasks rolling up to each phase:

Most of the time, we want to import some, but not all tasks from Wrike into our Gantt chart. It's easy to select which tasks should appear in the Gantt chart by using a custom checkbox field. To add this field, click on the gear button, followed by Manage custom fields.

On the next screen, click Add field. If there is already a custom field for OnePager in your Wrike account, add it to your project. If the field doesn't exist in your Wrike account yet, click on Create new field and create a field called OnePager with a Type of Checkbox, like this:

For faster access to this field in the future, we recommend setting up the field so that it Belongs to entire account. This will make it available for filtering other Wrike projects in the future.

Once the field has been added to your project, to back to the gear icon and check the box next to the OnePager custom field so that it's available for use:

Now, check the box next to any tasks in Wrike that you'd like to include in your Gantt chart. In this example, we're going to include subtasks but not summary tasks:

Now, launch OnePager from your desktop:

On the OnePager start screen, choose New to start building a new Wrike Gantt chart:

From the import wizard, go to Select > BROWSE Wrike:

If this is your first time using OnePager with Wrike, you will see a sign-in screen to allow OnePager to connect to your Wrike account.

Once connected to Wrike, OnePager will display a list of all of your available projects. Click on the one that you'd like to import, and then click OK:

Back on the import wizard, select the OnePager checkbox field to filter your tasks from Wrike:

To finish the import from Wrike, click Create New Chart. Once the Gantt chart appears, go to Home > Chart Propreties > Rows/Swimlanes and change your swimlane grouping to use the Level 1 Summary Name, which is the top-level summary task back in Wrike:

Click OK, and OnePager will group your Gantt chart into swimlanes based on the WBS of your Wrike project:
Get started today by downloading a free trial.
15-Day
Free Trial