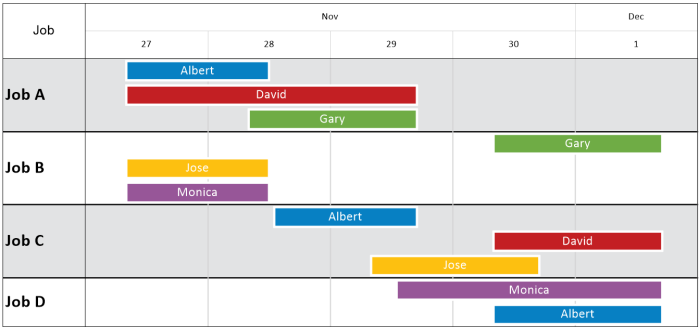 Download Construction Job Schedule as PDF

Download Construction Job Schedule as Image
Construction Job Schedule Features
The construction job schedule features:
Scheduling blocks show where each worker is assigned, with daily or hourly precision.
Grouping of work by job site, so that all work for a given job is shown in one place.
Assignment of a different color to each worker, so each worker can find his or her assignments easily.
This construction job schedule was created using OnePager Express, a scheduling application that uses data imported from a simple Excel spreadsheet. We also have detailed instructions on how to build a construction job schedule like this one.
To learn more about OnePager, and see how it can help you schedule workers across multiple jobs, get started today by downloading a free trial.
15-Day
Free Trial