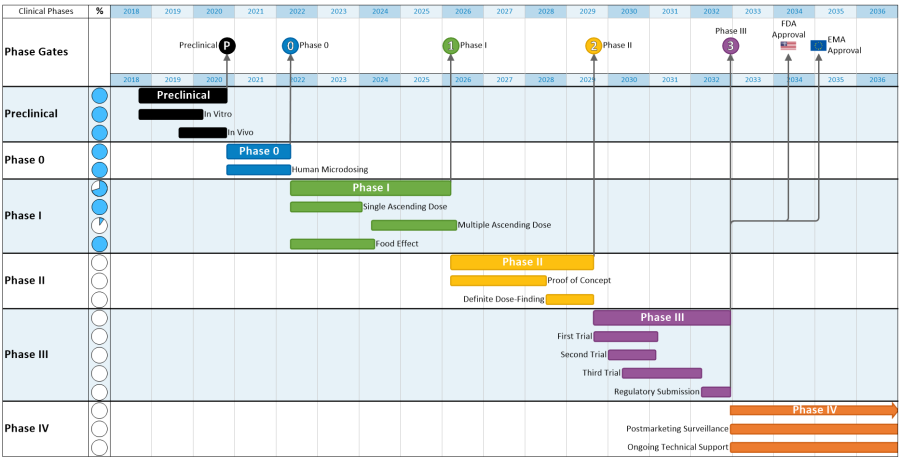 Download Clinical Milestone Tracker as PDF

Download Clinical Milestone Tracker as Image
OnePager Express Milestone Chart
This milestone chart features:
Phase gate milestones in their own swimlane at the top of the chart.
Assignment of unique colors to each clinical phase, with FDA and EMA approvals displayed as flags.
Display of predecessor and successor information to illustrate the relationship of different phases of the clinical trials.
Import of a clinical trial schedule from Planisware PPM, via Excel.
Swimlanes for each clinical phase.
This clinical milestone tracker was created in OnePager Express, timeline software for Excel, using data exported from Planisware PPM.
To learn more about how OnePager can help you keep track your clinical trials, get started today by downloading a free trial.
15-Day
Free Trial
Sample Files
This clinical milestone tracker was built using the following files, which you can download in either Microsoft Project or Excel format if you'd like to create something similar:
For Microsoft Project users:
For Excel users:
Instructions
To build a clinical milestone tracker like the example above, follow these instructions:
Download one set of the sample files listed above. The Microsoft Project and Excel files contain the milestones themselves, and the matching OnePager template file has most of the settings that drive the look and feel of the Gantt chart based on the data from either Project or Excel. Save both files to your desktop.

Open the Microsoft Project or Excel plan.

Once the project plan is open, go to Add-Ins and click the OnePager button.

When the start screen appears, click NEW to build a new chart.

Change OnePager's default template to the one downloaded above, making sure that you pick the template that matches the Microsoft Project or Excel plan that you downloaded. To do this, click on Change, and then BROWSE FILES to the OnePager template (*.tat) file. This OnePager template contains most of the data-driven formatting (colors, layout, etc.) that give this clinical milestone tracker its specific look.

With the template loaded, click on Create New Project View to build your chart. It should closely match the example at the top of this article.

If you want to align the phase gate milestones in the top swimlane differently, you can drag them up and down with your mouse to achieve the desired layout.

You can fine-tune the position of task and milestone labels by selecting the task or milestone and then using the text positioning controls on the Home tab of OnePager. Dependency lines can also be repositioned using your mouse if a line crosses a task in a way that makes it look too busy.
15-Day
Free Trial