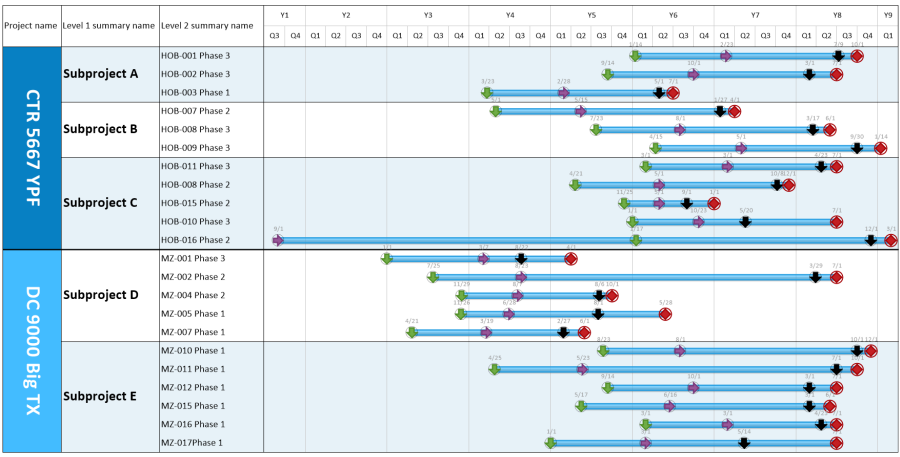 Download Clinical Trial Milestone Timeline as PDF

Download Clinical Trial Milestone Timeline as Image
OnePager Milestone Timeline Components
This timeline uses:
Alignment of key milestones for each compound into a single row
Grouping of compounds into swimlanes based on project (candidate) and then into a second set of swimlanes based on the subproject.
Specific symbols and colors for each type of milestone, for consistent reporting across trials
Display of key milestone dates along the timeline
This clinical trial milestone timeline was created using OnePager, the leading portolio timeline application for Microsoft Project.
To learn more about how OnePager can help you build timelines of the key milestones for your company's clinical trials, get started today by downloading a free trial.
15-Day
Free Trial
Sample Files
This clinical trial milestone timeline was built using the following files, which you can download if you'd like to create something similar
Microsoft Project Samples

CTR 5667 YPF.mpp (First Microsoft Project Plan)

DC 9000 Big TX.mpp (Second Microsoft Project Plan)

Clinical Trial Milestone Timeline.tat (OnePager Template)
Microsoft Project Instructions
To build a clinical trial milestone timeline like the example above, follow these instructions:
Download the three sample files listed above. There are two Microsoft Project files and one OnePager template file. Save all three files to your desktop.

Open one of the two Microsoft Project files.

Once Microsoft Project is open, go to Add-Ins and click the OnePager Pro button.

When the start screen appears click NEW to build a new chart.

On the import wizard, you should see that the first Microsoft Project plan has already been imported. Click Add/Remove to add more files. When the second window appears, click Add and then BROWSE FILES to add the second Microsoft Project file from the set of examples:

With both Microsoft Project ready for import, we need to change OnePager's default template to the one downloaded above. To do this, click on Change, and then BROWSE FILES to the OnePager template (*.tat) file. This OnePager template contains all of the data-driven formatting (colors, layout, etc.) that give this timeline its specific look.

With the two Microsoft Project files ready and the custom OnePager template selected, click on Create New Chart to build your chart. It should closely match the example at the top of this article.
15-Day
Free Trial