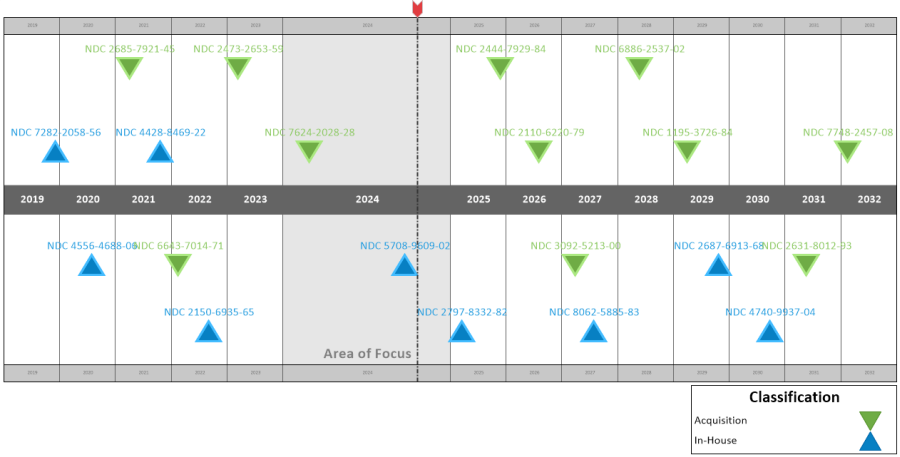 Download FDA Approval Timeline as PDF

Download FDA Approval Timeline as Image
OnePager Express Timeline Components
This timeline uses:
Different shapes and colors to differentiate in-house development projects from outside acquisitions
Comment boxes to identify each drug development project by its National Drug Code (NDC)
Filled and hollow milestone markers to indicate which drugs are approved, and which are still being reviewed by the FDA
Multi-year view to allow for easier long-range and strategic planning by executives and investors
Floating time axis in the middle of the chart to make it easier to see when each milestone occurs
Stretch of one year on the time axis to zoom in on an area of focus
Positioning of multiple milestones in the same row to save space in the presentation
This FDA approval timeline was created using OnePager Express, software from Chronicle Graphics that can build professional timelines quickly and easily using data from Microsoft Excel.
To learn more about how OnePager can help you manage and present your company's FDA approval timeline, get started today by downloading a free trial or attending one of our demonstration webinars.
15-Day
Free Trial
Sample Files
This FDA approval timeline was created using the following files, which can be used to create something similar for your own team. You can download examples that work either with Microsoft Project or Excel:
For Microsoft Project users:
For Excel users:
Instructions
To build an FDA approval timeline like the example above, follow these instructions:
Download one set of the sample files above--either for Microsoft Project or for Excel. Each set contains a project plan containing all of the key FDA approval milestones, plus a OnePager template that will help define the layout of the timeline itself. Save both files to your desktop.

Open the Microsoft Project or Excel file.

Once the project plan is open, go to Add-Ins and click the OnePager button.

On the OnePager start screen, click NEW to build a new timeline.

We need to change OnePager's default template to the one downloaded above. To do this, click on Change, and then BROWSE FILES to the OnePager template (*.tat) file. This OnePager template contains all of the data-driven formatting (styles, layout, etc.) that make the timeline look the way that it does.

Once the custom OnePager template is selected, click on Create New Project View to build your timeline. It should look similar to the example at the top of this article.
To add the floating time axis as shown in the example, right-click where you would like it, and then choose Insert Floating Time Axis Level > Year (Middle Level) in row above. You can learn more about OnePager's floating time axis if you would like to customize this further.
15-Day
Free Trial