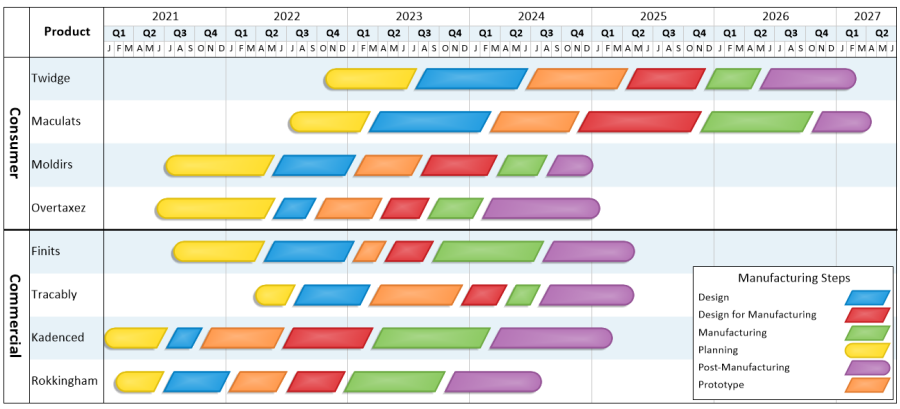 Download Timeline of Manufacturing Steps as PDF

Download Timeline of Manufacturing Steps as Image
OnePager Manufacturing Timeline Features
This timeline of manufacturing steps features:
Automatic and consistent coloring of each step in the manufacturing process. Manufacturing is always green, prototyping is always orange, and design is always blue.
Creation of a timeline for each product, with each step of the manufacturing process lined up left-to-right in sequence.
Grouping of products into swimlanes based on their product family. For example, consumer products are in one grouping and commercial products are in a second grouping.
This manufacturing steps timeline was created using OnePager, product planning software integrates with Excel or Microsoft Project.
To learn more about OnePager, and see how it can help track the steps of your pwn manufacturing process, get started today by downloading a free trial.
15-Day
Free Trial
Sample Files
This timeline of manufacturing steps was created using the following files, which you can download in either Microsoft Project or Excel format to create something similar for your own team:
For Microsoft Project users:
For Excel users:
Instructions
To build a site production roadmap like the example above, follow these instructions:
Download one of the two sets of sample files listed above. There is a Microsoft Project or Excel plan containing all of the manufacturing steps for each product, plus a matching OnePager template for Excel or Microsoft Project that will help define the layout of the timeline itself. Save both files to your desktop.

Open the Microsoft Project or Excel file.

Once the file is open, go to Add-Ins and click the OnePager button.

On the OnePager start screen, click NEW to build a new timeline.

We need to change OnePager's default template to the one downloaded above. To do this, click on Change, and then BROWSE FILES to the OnePager template (*.tat) file. This OnePager template contains all of the data-driven formatting (styles, layout, etc.) that give this timeline its unique look. Make sure that you use the OnePager template that matches your Microsoft Project or Excel source file.
Once the custom OnePager template is selected, click on Create New Chart to build your timeline. It should look identical to the example at the top of this article.
15-Day
Free Trial