Sample Master Schedules
OnePager is used by master schedulers to create straightforward timelines and Gantt charts from even the most complicated program schedules. It does so dynamically based on the schedule information you already have in Microsoft Project or Excel: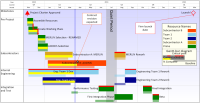 Enhancing the Microsoft Project 2010 Timeline View
Learn how the timeline view in MS Project 2010 can create simple Gantt charts, and how OnePager can make these Gantt charts even more powerful with dynamic grouping, sorting, and color-coding.
Get started today by downloading a free trial or attending one of our demonstration webinars.
15-Day
Free Trial